Junior doctors win 'resounding mandate' for strike action against 'unsafe' contracts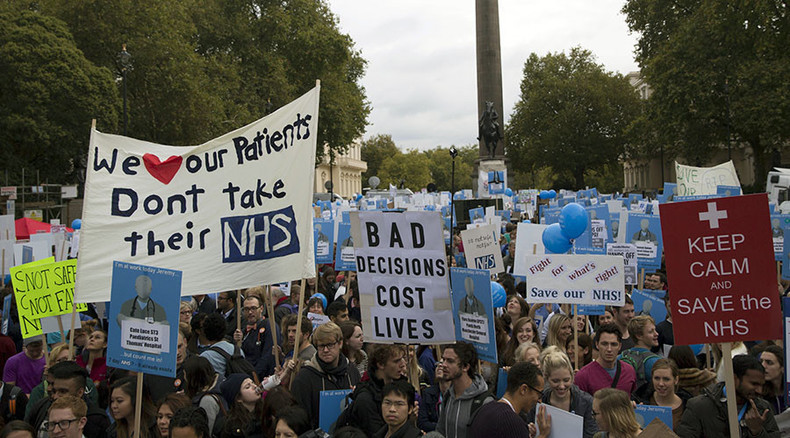 Junior doctors in England have voted overwhelmingly in favor of strike action in protest against the government's planned new contracts, which they consider unfair and unsafe.
Some 98 percent of the 37,000 junior doctors balloted by the British Medical Association (BMA) voted in favor of full strike action, while 99 percent voted in favor of action just short of a full strike.
The first day of industrial action is set for December 1, with two additional dates earmarked for December 8 and 16.
The BMA blamed the government for the strike action and called on Health Secretary Jeremy Hunt to clarify "conflicting information" regarding its new contract.
Talks between the BMA and ministers broke down last year, after which the government said it would impose a new contract in 2015. Around 20,000 junior doctors attended a protest rally in London last month where they argued the changes will force them to work longer hours, resulting in a greater risk of burnout.
Hunt made a last ditch attempt to persuade doctors to accept the offer ahead of balloting two weeks ago. He has previously condemned junior doctors for considering industrial action and warned that patient care would suffer.
"Threatening extreme action is totally unwarranted and will harm vulnerable patients," Hunt said.
In a letter to the BMA, NHS England Medical Director Sir Bruce Keogh asked if junior doctors would break their strike in the event of a terrorist attack. The BMA has yet to respond.
The strike is likely to lead to thousands of routine appointments, tests and operations being cancelled and rescheduled.
"We regret the inevitable disruption that this will cause but it is the government's adamant insistence on imposing a contract that is unsafe for patients in the future, and unfair for doctors now and in the future, that has brought us to this point," BMA council chair Dr Mark Porter said.
"Patients are doctors' first priority, which is why, even with such a resounding mandate, we are keen to avert the need for industrial action, which is why we have approached ACAS (Advisory, Conciliation and Arbitration Service) to offer conciliatory talks with the health secretary and NHS Employers to clarify the conflicting information coming from the government over the past weeks."
Labour Shadow Health Secretary Heidi Alexander has called on Prime Minister David Cameron to intervene, as "trust has fundamentally broken down between the parties."