'Anti-austerity champion' Cameron mocked in Parliament for council cuts hypocrisy (VIDEO)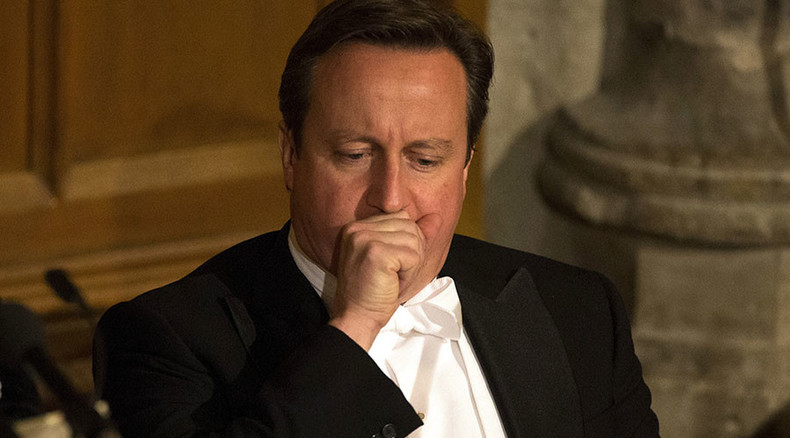 Prime Minister David Cameron was mocked in Parliament for being "the new leader of the anti-austerity movement in Oxfordshire" after writing to his constituency council to complain about cuts to services.
Labour MP Jonathan Reynolds delivered the blow during prime minister's questions (PMQs) on Wednesday.
Reynolds was referring to a leaked letter in which Cameron protested about cuts to frontline public services by his own Tory-run local council.
The PM was ridiculed by Labour after the letter went public, with cabinet members welcoming him to the campaign against cuts.
"As the new leader of the anti-austerity movement in Oxfordshire, can the prime minister tell us, how is his campaign going?" Reynolds asked Cameron in the House of Commons, much to MPs' glee.
The PM laughed in response, but insisted he wants local councils to make savings.
"What I said to my local council is what I say to every council, which is you've got to get more for less, not less for more.
"As I said on this side of the House, we want to make sure that every penny that is raised in council tax is well spent. And if his council would like to come in and get the same advice, I'd gladly oblige."
Labour MP Yvonne Fovargue also attacked the PM over council cuts.
"Wigan Council has had over a 40 percent cut in its funding over the last five years and lost over a third of its staff," she told the Commons.
"Does the prime minister advise that I should write to the leader of the council regarding the consequent reduction in services? Or should I place the blame firmly where it belongs, in the hands of your government?"
MP's on both sides laughing at Cameron/anti-austerity leader in Oxford joke. Have they mentioned the 600 austerity-related suicides? #PMQs

— Steve Topple (@MrTopple) November 18, 2015
Cameron responded by shifting blame onto the previous Labour government.
"I think if the Right Honorable Lady is looking for someone to blame, she might want to blame the Labour government that left this country with the biggest budget deficit anywhere in the Western world," he said.
Cameron was accused of hypocrisy over his letter to the head of Oxfordshire Council, in which he complained about cuts to elderly day centers, libraries and museums.
Council leader Ian Hudspeth replied, describing how the council had already made the cuts to office functions Cameron suggested and noting that new functions had been transferred to the authority, including public health and social care.
#bbcdp Good question about Cameron leading anti-austerity movt in Oxford. PM looked embarrassed. No discussion on Daily Politics

— sue owen (@sueowen3) November 18, 2015
"Excluding schools, our total government grants have fallen from £194 million in 2009/10 to £122 million a year in 2015/16, and are projected to keep falling at a similar rate. I cannot accept your description of a drop in funding of £72 million or 37 percent as a 'slight fall,'" Hudspeth said.
Labour Shadow Chancellor John McDonnell issued a tongue-in-cheek response to the leaked letter, which was obtained by the Oxford Mail.
"I'm backing David Cameron on this one. He is absolutely right that his chancellor's cuts to local government are seriously damaging our communities and have to be opposed. I welcome the prime minister as another Tory MP joining our campaign against George Osborne's cuts," he quipped.