50% of Brits oppose taking Syrian refugees after Paris attacks as first 100 arrive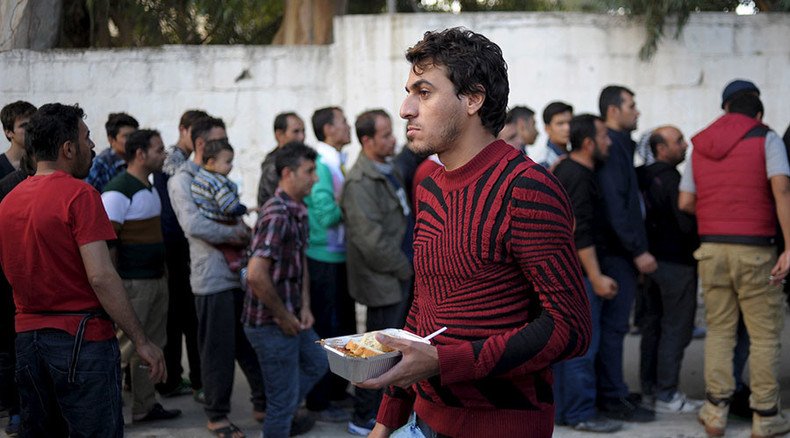 Support for resettling Syrian refugees in Britain has slumped in the wake of the Paris attacks, a new poll shows, with 49 percent of respondents believing the UK should accept fewer or no refugees at all.
The poll, conducted by YouGov for the Times, also found the proportion of respondents who believe Britain should take more refugees had fallen from 36 to just 20 percent since the last survey taken in September.
It also discovered that 79 percent of respondents are worried Islamic State will try to launch a terror attack in Britain.
The results suggest the wave of support for refugees that emerged over the summer as stories of migrants drowning in the Mediterranean hit the press has waned following the Paris attacks.
Prime Minister David Cameron has pledged to accept 20,000 Syrian refugees by 2020, the first 100 of whom arrived in Glasgow on Tuesday.
The refugees were selected from camps in Lebanon, Jordan and other countries bordering Syria. They are believed to include people suffering from illnesses including post-traumatic stress disorder.
Scotland's minister for Europe and International Development Humza Yousaf called it a "proud day."
"These people have fled terror and tyranny and are some of the most vulnerable among those affected by conflict in Syria. They will now travel to a number of communities across Scotland. The offers of support from ordinary people across Scotland who want to help alleviate the suffering of the vulnerable people caught up in this humanitarian emergency has been overwhelming," he said.
The Scottish Refugee Council said it had received almost 2,000 offers of help from individuals who want to assist the refugees.
However, not everyone is as accommodating. A warning has been issued to mosques in Scotland after an Islamic cultural center was firebombed in what is being treated as a possible hate crime.
Amnesty International also issued a warning to European leaders on Wednesday urging them to continue welcoming refugees, despite fears of more Islamic State-linked terror attacks.
John Dalhuisen, Amnesty International's Director for Europe and Central Asia, said "giving in to fear … will not protect anyone."
"The numbers fleeing persecution and conflict have not gone away, nor has their entitlement to protection. In the wake of this tragedy, the failure to extend solidarity to people seeking shelter in Europe, often after fleeing the very same kind of violence, would be a cowardly abdication of responsibility and a tragic victory for terror over humanity.
"As long as there is violence and war, people will continue to come, and Europe must find better ways to offer protection. The EU and its front-line member states urgently need to rethink how they ensure safe and legal access to the EU both at its external land borders and in countries of origin and transit. This can be accomplished through the increased use of resettlement, family reunification and humanitarian visas," he added.
You can share this story on social media: