Fire on London's Fleet Street near Goldman Sachs offices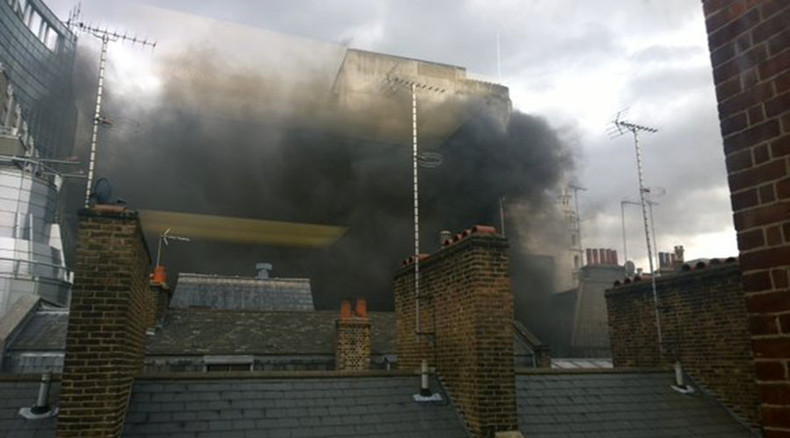 London Fire Brigade (LFB) battled a blaze in a Fleet Street building adjacent to the offices of Goldman Sachs on Wednesday. LFB tweeted at 16:30 GMT it is "under control and crews are damping down."
Smoke engulfed the building at some point after 14:30 GMT on Wednesday afternoon.
Some 30 firefighters and six fire engines attended the scene.
Tim Dickens, of the Royal Television Society, reported that a specialist ambulance crew arrived. There have been no reported injuries.
Transport for London (TfL) confirmed Fleet Street was closed in both directions between Ludgate Circus and Fetter Lane due to the fire.
The LFB say the blaze was in a first floor flat above a pub on Fleet Street.
A Goldman Sachs employee told the Huffington Post UK the investment bank's offices were evacuated following the fire.
They said a "significant amount of smoke appeared to be coming from [the] building above Pret a Manger.
"Surrounding buildings were partially evacuated, including Goldman Sachs."
Reports suggest the fire was above the historic Ye Olde Cheshire Cheese, a long-time favorite watering hole of Fleet Street journalists.
The Grade II listed pub was frequented by Dr Samuel Johnson, Alfred Tennyson and Arthur Conan Doyle, among other literary greats.