37,000 beds in British care homes cut by 2020 – report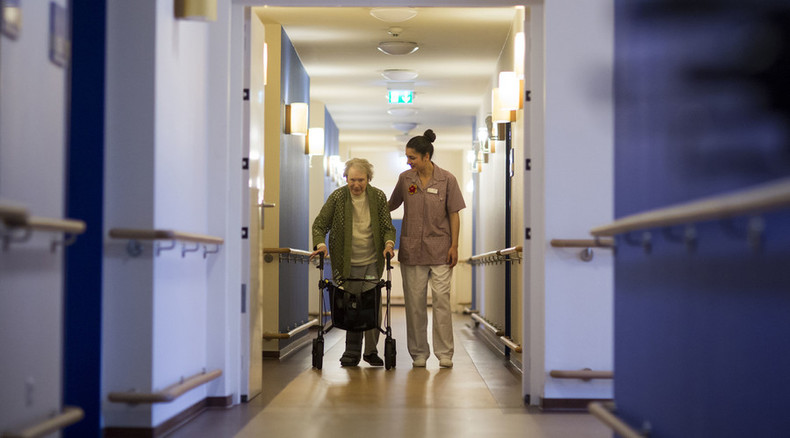 Nearly 1,500 of Britain's care homes will close by 2020 because of the financial crisis facing the sector, a new report predicts.
The National Health Service (NHS) will be left with an annual bill of £3 billion (US$4.55 billion) after 37,000 care home beds disappear over the next five years, according to think tank ResPublica.
The report, which is backed by the GMB trade union, found that elderly patients are likely to be left with no choice but to stay in hospitals, where they would take up one in four beds.
Britain is already facing a hospital bed shortage. According to a report by the Organization for Economic Co-operation and Development (OECD), it is the second worst in Europe.
The number of people aged over 85 in Britain is set to rise by nearly 2 million in the next 20 years.
The ResPublica report says the care sector will have a shortfall in funding of £1.1 billion by the 2020/21 financial year, with £382 million linked costs associated with the introduction of the national living wage.
'National living wage will damage care sector'
ResPublica's director Phillip Blond said the national living wage "must be brought in," but admitted it will "damage" the residential care sector.
"The national living wage must be brought in. It is essential working people are paid a proper wage. At the same time it will damage the residential care sector, which is already under extreme pressure, and it could collapse as a result," he told the Guardian.
"Now, however, with the sector losing money for every funded resident, there is no provider of last resort.
"We fear the worst case scenario is the most likely, that these residents will flood our local general hospitals costing £3 billion per year by 2020."
'George Osborne must act now'
GMB's national officer Justin Bowden said: "It is one minute to midnight for the care sector. Just as GMB warnings that Southern Cross would collapse were ignored again and again by government, history looks set to repeat itself unless George Osborne acts now."
Last Friday, a leading operator warned that if Chancellor George Osborne fails to provide more funding in his autumn statement, they will close or sell homes.
"Yes, I think inevitably we will have to sell homes, some of which will stay as nursing homes, but some of which will end up closed and changing their use. It's not something we want to do," the founder of private equity firm Terra Firma, Guy Hands, told the Guardian.
There are currently about 425,000 people across 18,000 care homes in the country. Real term spending on social care for older people has fallen by 17 percent over the last five years, according to the report.
'Poor treatment'
However, it appears, the quality of treatment towards elderly patients in care homes is deteriorating along with the number of facilities in Britain.
Research carried out by the BBC in February found that nearly 15,000 complaints about the treatment of care home residents aged 65 and over were made to local authorities last year.
It has emerged that a care home worker has been arrested on suspicion of killing 93-year-old patient Florence Norris at Birdsgrove nursing home in Berkshire. She died after suffering severe burns.
The 54-year-old male suspect, who is the third person to be arrested over Norris' death, is being held on suspicion of manslaughter by gross negligence.
You can share this story on social media: