Serious beef: Killer cows responsible for deaths of 74 people, farmers urged to act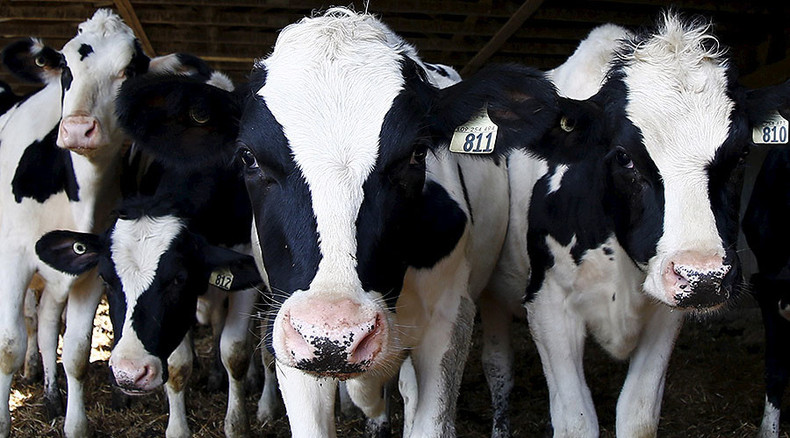 Herds of cows on British farms have killed 74 people in the past 15 years, new figures show, making them at least twice as dangerous as dogs. Farmers have been instructed to make their land safer to avoid further deaths.
According to new data from the Health and Safety Executive (HSE), 18 victims of attacks by cows were members of the public, with the remaining 56 people farmworkers.
Of the 18 non-farmer victims, two were over 60 and four incidents took place during the summer of 2015.
The National Farmers Union (NFU) distributed information urging dog-walkers to let their pets run away if a cow charges to protect themselves.
HSE's agricultural advisory committee also urged farmers to beef up security by putting up signs alerting the public to potentially rogue animals and create "protected walkways."
The HSE report found that most of the deaths involved bulls or cows that had recently given birth, and suggested farmers make more of an effort to keep these animals away from public footpaths.
"As 70 percent of these deaths involved either a bull or newly calved cow, activities with these… stock should be very carefully planned," the report said.
Janet Davis, policy officer at the Ramblers Association, said: "Farmers are under a legal obligation not to endanger people crossing their land."
The chairman of the National Farmers' Union livestock board, Charles Sercombe, added that ramblers may also be to blame.
"People don't understand animal behavior," he said.
The report comes after the death of Mike Porter in 2013, who was trampled by cows while walking through fields in Wiltshire.
The HSE is deciding whether or not to prosecute farmer Brian Godwin, who owns the animals. Porter's death was the fourth cattle attack on his land.
Another victim of Godwin's cows, David Billington, survived to tell the tale, but said: "Until the death of Mike Porter, not enough had been done to protect the public."
While cattle may have killed twice as many people as dogs, the number of injuries caused by man's best friend has also increased.
New figures released in May showed that hospital admissions resulting from canine attacks have risen by 76 percent over the past decade.