Cameron shuts down anti-EU hecklers at CBI conference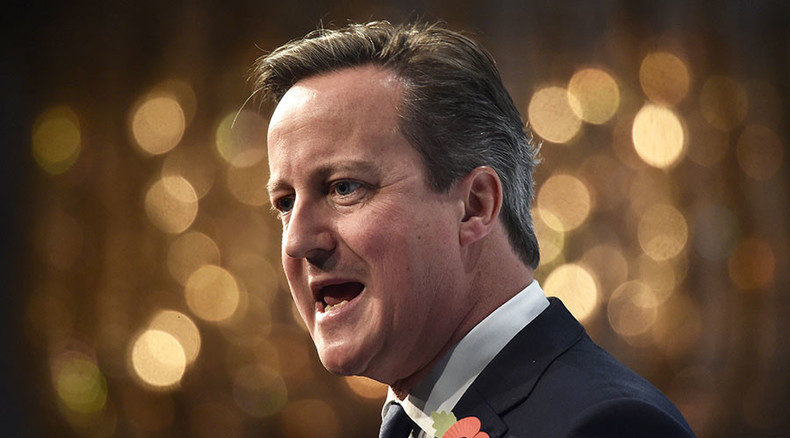 Prime Minister David Cameron dismissed two anti-EU protesters as "fools" after they heckled him during a speech at a Confederation of British Industry (CBI) conference.
The two 19-year-olds, protesters from a Vote Leave group called "Students for Britain," chanted "CBI – Voice of Brussels!" and held up banners with the same message as Cameron was speaking.
Cameron told the two students: "We're going to have a debate in a minute – if you wait for a second you can ask me a question, rather than interrupting what's a very good conference.
"Come on, guys, if you sit down now you can ask me a question rather than making fools of yourselves by just standing up and protesting."
The teens, Phil Sheppard and Peter Lyon, told Sky News that Vote Leave helped them set up a fake company to gain admittance into the event.
"It was the most terrifying thing I've ever done in my life, but definitely worthwhile and I'm glad I did it," Lyon said of the protest. "I was expecting the stewards to take us out much more quickly. But they just stood there and we just kept on chanting."
The teens attacked the CBI for being too pro-Europe.
"We were worried about the CBI misrepresenting British business's views... in reality a lot of particularly small- and medium-sized businesses in Britain think the EU hinders rather than helps them," Lyon said.
A CBI spokesperson told Sky: "We have always said that there is no uniform business view on the EU referendum inside or outside the CBI, but a majority of our member companies want the UK to be in a reformed EU.
"It is disappointing that some individuals have decided to disrupt the enjoyment of the conference for delegates."
Speaking to the CBI, Cameron said although he has "no emotional attachment" to EU institutions, he wants what is best for British interests, and argued that remaining within the 28-nation bloc would benefit the country.
The incident comes as the prime minister prepares to send a list of demands for EU reforms to European Council President Donald Tusk on Tuesday.
Cameron has pledged to seek a renegotiated settlement between Britain and the EU before holding a referendum on membership before by the end of 2017. He is expected to push for restricting in-work benefits to EU migrants for four years, improving protections for non-Eurozone countries so Eurozone countries could not outvote them, creating opt-out option for the UK from the EU's commitment to "ever-closer union," and increasing the powers of national parliaments to block EU legislation.