Danger money: British tourist paid £20 to bypass Sharm el-Sheikh airport security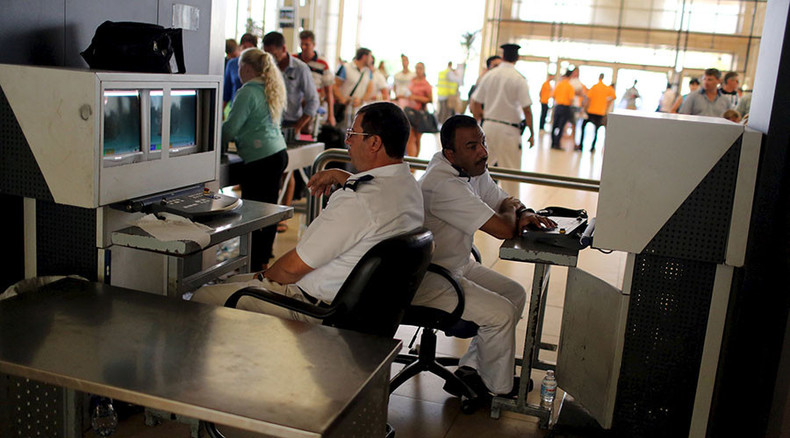 A British tourist who flew out of Sharm el-Sheikh airport has revealed he and his partner were able to bypass security after paying a £20 fee, Sky News reports.
Dale Parkyn's revelation comes as commercial air travel to the airport has been suspended by a number of countries, including the UK and Russia, amid security fears. Flights were halted after a Russian commercial airliner crashed last weekend, killing all 224 people on board.
The UK government said on Thursday there is a "significant possibility" that an explosive device was responsible for the crash.
Parkyn described security measures as "bizarre," explaining his bags had not gone through any scanners.
"We just had one main piece of luggage, which was then lifted up and taken through. He seemed to nod at two or three different people," he told Sky News.
"We walked right through the security gates and the security procedure, straight through the airport, avoided all the queues and then he put the case on the conveyer belt and the girl checked us in.
"And at no point did my luggage go through any scanner. When I think about it now, it was bizarre," he added.
Tourists stranded in Egypt have faced days of delayed and canceled flights as the international evacuation effort descended into chaos.
Some 29 flights were supposed to transport holidaymakers back to Britain on Friday, but following the grounding of all EasyJet services, the number has been reduced to just eight.
"The security in Egypt was shocking," Nick Hazelwood from Kent told Sky News when he and his mother landed at Gatwick airport.
Maxine Hazelwood echoed her son, saying that she was "relieved" to be back.
"It's just been an absolute nightmare," she told Sky. "They were hysterical and frightened and there was a total lack of information."
Three flights bound for the Egyptian airport have been diverted in mid-air amid speculation that Sharm el-Sheikh's facilities are under strain and operating at full capacity.
A spokesperson for Prime Minister David Cameron said on Friday afternoon that the government faces a "highly complex" logistical operation to bring British citizens home.
"This is a hugely complex operation. We continue to work closely with both the Egyptian authorities and the airline carriers to get people safely home as quickly as possible. But the sheer scale of the task poses a number of logistical complexities."
"Our aim remains to bring holidaymakers back to the UK as soon as possible. We are working with airlines to ensure passengers get the message not to make the journey to Sharm airport until airlines have absolute confirmation that they will be able to travel," she added.
Customers will also be disappointed to learn that only 40 percent of travel insurance companies offer compensation if individual's travel plans are disrupted by terrorist activity or civil unrest.
The Telegraph reports that of 20 major insurance companies, just five offer to cover the expenses of a flight canceled because of terrorism.
A further six will cover medical treatment if the customer is caught in a terrorist attack. The final nine will not cover any terror-related claims.