Egypt exodus: First evacuated Sharm el-Sheikh Britons land in London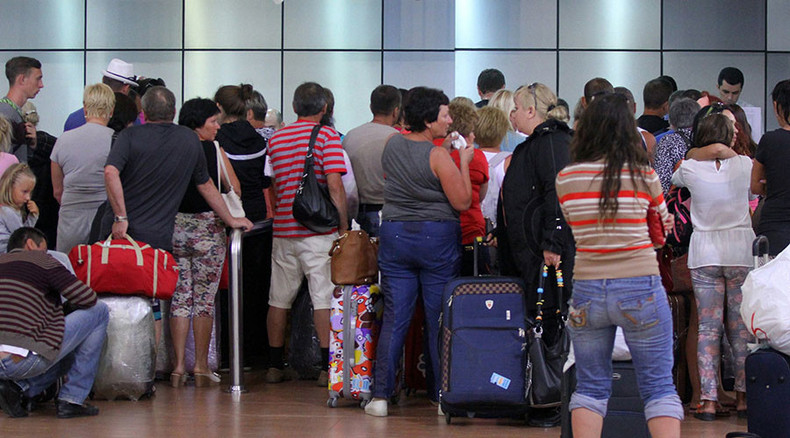 The first rescue flight transporting British tourists stranded in the Egyptian resort of Sharm el-Sheikh has landed at Gatwick airport in London, it has been announced.
Transport Secretary Patrick McLoughlin announced Friday morning that most British tourists who were due to have returned to the UK by Friday would be brought home by the end of the day, but the rescue operation now appears to be in jeopardy.
One Thomas Cook flight dispatched to pick up tourists has made a u-turn over Albania, aviation sources say, and appears to be en route back to the UK. Two more are diverting over Cyprus amid fears the Sharm el-Sheikh airport is stretched to max capacity.
The Easyjet flight arrived at Gatwick on Friday evening after a day of confusion and chaos at the Egyptian airport.
On Friday morning the airline announced it was grounding all rescue flights due to Egyptian government interference.
British ambassador to Egypt John Casson contradicted the Easyjet's statement. He told assembled press Egyptian authorities are not responsible for grounding the planes.
"No they haven't [blocked the flights]. There is good collaboration. Flights are coming that will allow us to take more people home today," he told reporters.
"There are just challenging logistical issues involved in making sure that flights can leave and arrive in a busy airport in line with international regulations in a way that can be safe."
The British transport ministry added that they were working with Egypt to ensure the planned flights leave for Britain on Friday.
Egyptian authorities also denied blocking the flights, saying that the number of flights able to deport is limited by airport capacity.
"The British airline wants to schedule 18 flights at the same time and wants to transport British passengers from Sharm al-Sheikh without their luggage, which we would have to transport later," Hossam Kamal, Egypt's minister of civil aviation, told Reuters.
Disgruntled passengers have been waiting in the Sharm el-Sheikh airport for flights, some of which have now been cancelled.
EasyJet announced on Friday morning that flights dispatched to rescue British tourists stranded in the Egyptian holiday resort were grounded after an intervention by the Egyptian government, a statement on the airline's website revealed.
"The situation in Sharm el-Sheikh has changed and rescue plans that were put in place yesterday have been suspended by the Egyptian authorities," the statement said.
"Discussions are currently ongoing at the highest political level to resolve this situation. We are very sorry and understand that this is extremely frustrating for you – unfortunately the situation is outside of EasyJet's control. Please stay or make your way back to the hotel you have been staying in, and be assured we will pick up the cost of this," the airline added.
Flights transporting the tourists will be subject to strict security measures, which include a ban on hold luggage.
Dutch airline KML also implemented a hand-luggage only policy for the their flights out of Sharm el-Shiekh after British authorities instigated the measure.
The head of Russian security has also suggested that Russian airline flights be suspended.
The UK government suspended all flights to Sharm el-Sheikh on Wednesday after a Russian plane crashed last weekend, killing all 224 on board.
It was reported Thursday that British security services uncovered an Islamic State (formerly ISIS/ISIL) bomb plot in the region after the crash took place. UK authorities have also said it is "more likely than not" that the plane was brought down by an explosive device.
McLoughlin, the transport minister, told ITV News on Friday morning that "a number of aircraft" would flown out to Sharm el-Sheikh to collect tourists.
"The airlines have been incredibly cooperative with us to sort this out and we are going to have a number of aircraft going out today and bringing people back home," he said.
"I think most of the people who were expecting to be home by tonight will be home by tonight."
However, on Friday morning EasyJet revealed most of their rescue flights had been halted. Two EasyJet flights were able to bring back roughly 350 tourists, who were supposed to have returned on Wednesday, Sky news reported. The other eight flights were all grounded.
Egyptian authorities criticized the British government for suspending flights to the area, saying the decision was unnecessary and had been taken without any consultation.
Following the UK's decision to stop transport links with the holiday resort, a number of other European airlines, including Germany's Lufthansa, followed suit.
Egyptian Tourism Minister Hisham Zaazou said Thursday: "I greatly regret the British government's decision to halt flights. It seems to have been hasty and I do not understand the logic behind it."
He added the decision had been made in spite of a good safety record at the airport.
READ MORE: UK govt: 'Significant possibility' bomb may have downed Russian passenger jet over Sinai
"British security officials checked out the airport at Sharm el-Sheikh over a year ago and discovered no problems there."
"When it comes to security both we and the British put the safety and welfare of passengers first."
"I expect the British to accept our position and reverse their decision on halting flights as soon as possible. As to the question of whether the crash was caused by a bomb or mechanical problem, all options are still open to investigation and I do not understand why there was a sudden rush by the media to focus on the bomb when there is no evidence to support either conclusion."