Sisi: Egypt will work with UK to ensure Sharm el-Sheikh Britons are returned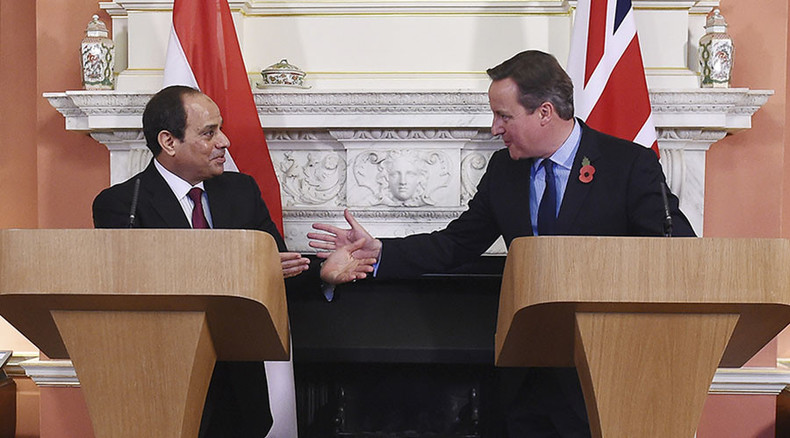 In a joint press conference on Thursday, Prime Minister David Cameron and Egyptian President Abdel Fattah el-Sisi said they will "work hard" to ensure flights to and from Sharm el-Sheikh are restored as soon as possible.
Cameron and Sisi met to discuss how they will address security concerns in Sharm el-Sheikh in wake of the Russian passenger jet crash in Sinai which killed all 224 passengers on Saturday.
I've chaired a COBRA meeting -ensuring everything is being done to make sure British tourists in Sharm el-Sheikh are flown home safely.

— David Cameron (@David_Cameron) November 5, 2015
Soon after Downing Street claimed that there was a "significant possibility" the crash had been caused by an "explosive device," all flights between Britain and Sharm el-Sheikh were suspended.
'Britons will be home soon'
Speaking at the conference on Thursday, Cameron said "We are working intensively together in the spirit of close cooperation and I am immensely grateful for all the efforts the Egyptian authorities have made so far," he said, adding "I am sure we will be able to bring those British holidaymakers home soon because of the level of cooperation between our two governments and – more than that – I am sure that we will be able, over time, to take the necessary action to restore the holidaymaking route from Britain to Sharm el-Sheikh and vice-versa," he added.
'Security check carried out ten months ago'
However, Sisi revealed that, at the UK's request, British authorities conducted a security check at the Sharm el-Sheik airport 10 months ago and found it "satisfactory."
"Ten months ago we were asked by our British friends to send a team to Sharm el-Sheikh airport to make sure all the security procedures are enough and provide the adequate safety and security for passengers.
"We understood their concern because they are really interested in the safety and security of their nationals. We received the teams, we cooperated with them and they checked the security operations – they were happy with that.
"And we are still ready to co-operate in this particular regard, not necessarily on one airport but on all airports."
According to the Press Association, EasyJet says it will be operating nine flights from Egypt to the UK on Friday.
A Downing Street spokesperson has confirmed Cameron had a phone conversation with Russian President Vladimir Putin to discuss the crisis.
"The prime minister reiterated his condolences over the loss of Russian life in the Sinai plane crash," it said in a statement.
"He explained that, as more information had come to light, our concerns that the plane may have been brought down by an explosive device had increased."
Cameron and Putin agreed that Britain and Russia face a "common threat" from terrorism, the statement said.
"The president expressed his thanks for the call and his understanding for our concern for the safety of British citizens. They agreed to keep in close touch as the investigation progressed."
'Stop Sisi'
Meanwhile, protestors from the Stop Sisi campaign are frustrated that the leaders have not yet discussed Sisi's alleged human rights abuses in Egypt.
Several protestors wearing white suits staged a die-in outside Downing Street ahead of the conference to prevent Sisi from entering.
A number of protestors were arrested, according to various reports