Prison CCTV nabs would-be smugglers with contraband and McMuffin on fishing line (VIDEO)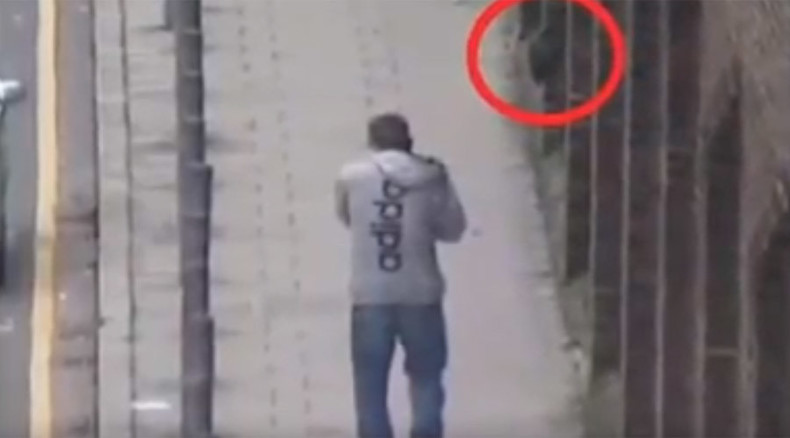 A man and his girlfriend were caught smuggling a knife, drugs and a McDonalds McMuffin into a British prison attached to a fishing line.
CCTV footage shows the moment Karl Jensen, 27, ties a wash bag to a fishing line outside Wormwood Scrubs prison in Shepherds Bush.
As he walks away, the bag is reeled over the wall and into a jail cell. Prison officers later found the contraband, which contained a five-inch blade, a Smartwatch, mobile phone and drugs, inside a prisoner's cell.
Prison staff alerted police as soon as they noticed Jensen tying the bag to the fishing hook by Wormwood Scrubs prison wall.
Jensen and his girlfriend, Lisa Mary Hutchinson, 26, were caught by police and both later pleaded guilty at hearing at Isleworth Crown Court.
Jensen faced three charges related to conspiracy to supply class A and B drugs and four in connection with conveying an article into prison. He was sentenced to two and a half years in jail.
Hutchinson was sentenced to 12 month community order and must attend a community rehabilitation program after admitting to allowing her premises to be used for the supply of class A and B drugs.
Wormwood Scrubs prison Governor Peter Nichols said he is committed to prosecuting those who attempt to smuggle illegal items into his jail.
"This successful prosecution was due to the efforts made between both agencies - the police and the prison service - and highlights the importance of collaborative working and maintaining positive professional relationships and the sharing of information with our partners," he said.
"A Notice to Prisoners will be published to highlight this and the intent, that Wormwood Scrubs is committed to working with our Partner Agencies to assist in prosecuting those who attempt to convey and distribute illicit items into our prison."
Detective constable Andy Griffin thanked vigilant staff for spotting the smuggling attempt.
"Jensen and Hutchinson tried to smuggle prohibited items including drugs, alcohol and a knife inside a prison; the combination could have been deadly," he said.
"Thankfully vigilant prison staff foiled the plot and they were quickly arrested. This case serves as a strong reminder of the very serious consequences of smuggling prohibited goods into a prison."