High Court lifts ban on protests at Israeli drone factory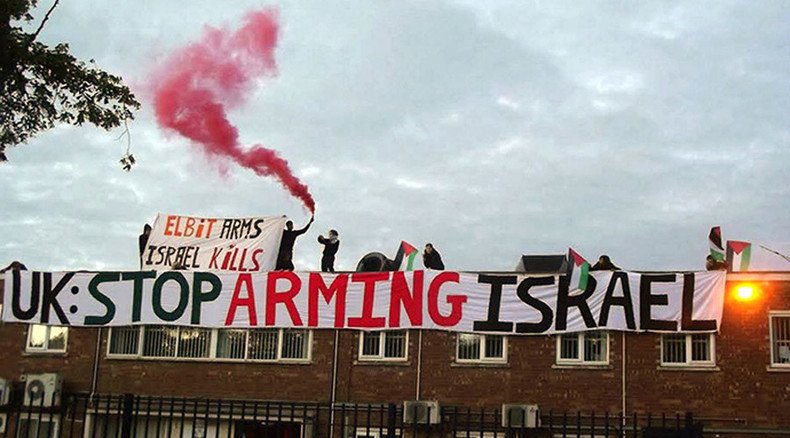 An injunction banning protests from taking place outside a drone factory in Staffordshire has been thrown out by Birmingham High Court. The factory has produced parts for drones used to attack Gaza in 2008, according to Amnesty International.
UAV Engines Limited in Shenstone, owned by an Israeli arms manufacturer Elbit Systems, is one of the world's leading drone producers. The company says it produces "engines for various size tactical armed unmanned aerial vehicles [UAVs], target drones and single mission platforms."
Angered by the factory's unethical behavior, hundreds of protesters have staged demonstrations outside its industrial unit, calling on the manufacturer to stop contributing to the death of Palestinians.
In June, campaigners shut down UAV and another Israeli arms factory in Kent as part of a protest marking the one-year anniversary of the Israeli assault on Gaza.
Soon after, it became illegal for activists to protest within 250 meters of the Shenstone factory. The ban came in the form of a temporary injunction granted by the High Court.
However, Birmingham High Court scrapped the ban on Tuesday, ruling Elbit had failed to disclose information on the history of protests which have taken place at the factory since 2009.
'Scrapped as if it never existed'
Judge Purle at the High Court said the injunction is dismissed "as if it never existed."
"I think it inconceivable you would have got the same injunction, possibly even any injunction, if you had disclosed relevant information to me," she told the court. "Accordingly the injunction I granted on 30 June is dismissed ab initio [from the beginning] and it is as if the injunction never existed."
'It shouldn't have been introduced'
A spokesperson for campaign group Block the Factory said the injunction should not have been imposed in the first place.
"This injunction should never have been imposed.It seems to have been designed to deter protest and campaigning around ending the UK's deadly arms trade with Israel," they told IBT.
"It's Elbit Systems and its arms factories that should be facing a ban, not our protests. Today's decision will bring even more energy to our campaigning in solidarity with ongoing Palestinian resistance and for a two-way arms embargo on Israel."
War on Want, a charity fighting against the root causes of poverty and human rights violations, said it is pleased the ban has been lifted.
"It would have been a travesty for people to be criminalized for protesting against the sale of arms that are killing Palestinians. It just goes to show the depths UAV Engines will stoop to in order to protect the profits they make from the sale of deadly drones," campaigner Ryvka Barnard said.
"We welcome the news that the judge has binned this draconian injunction and we will keep up the fight for an immediate two-way arms embargo between the UK and Israel," he added.
In July, hundreds of activists protested outside the factory, which led to 19 people being arrested by Staffordshire police.
You can share this story on social media: