'Blair pre-empting Chilcot': Father of dead soldier doubts ex-PM's Iraq apology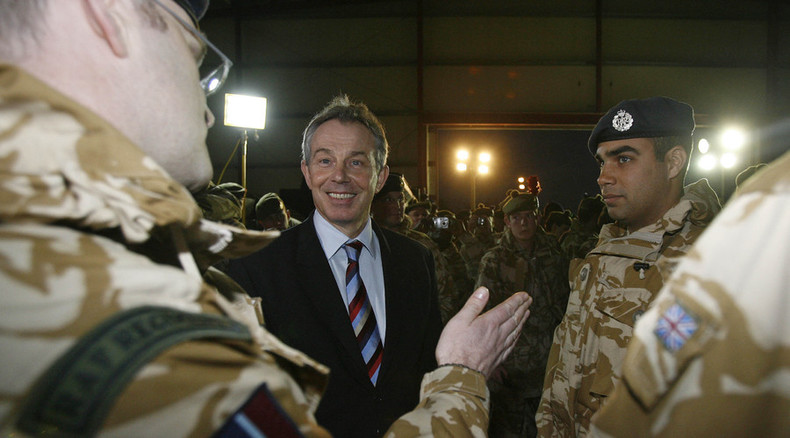 Tony Blair's Iraq apology wrongly shifts blame onto intelligence chiefs and is merely an attempt by Britain's controversial former prime minister to pre-empt the Chilcot Inquiry, the father of a soldier killed in the war claims.
Reg Keys, whose son Tom was killed in Iraq in 2003, dismissed Blair's comment as an attempt to shift the blame and spin the long-overdue Chilcot Inquiry report into the war.
"I feel revulsion," Keys told the Telegraph newspaper on Sunday. "This man certainly got it wrong."
"One hundred and seventy-nine British service personnel dead, 3,500 wounded. Not to mention the hundreds of thousands of innocent Iraqi men, women and children that lost their lives. The guy has got to hold his hands up [and say] I got it wrong and I [apologize]."
Lance Corporal Tom Keys was one of six military policemen killed by a mob in Iraq in the opening stages of the invasion.
After Tom Key's death, his father, Reg, became one of the founders of the Military Families Against The War campaign, which has proven a thorn in Blair's side.
In 2005, Keys stood as a parliamentary candidate in Blair's constituency of Sedgefield.
Keys told the Telegraph that he felt Blair's apparent apology on CNN was a political move, and not a heartfelt one.
"I feel that he's obviously pre-empting the Iraq inquiry's findings. It's finger-pointing. He's blaming intelligence chiefs for giving him the wrong intelligence. He's not [apologizing] for toppling Saddam."
"What about [apologizing] for the unnecessary loss of life? The reason we went to war was weapons of mass destruction, not to topple Saddam," Keys added.
Blair's comments about faulty intelligence jar with recent leaks.
READ MORE: Blair acknowledges ISIS stemmed from Iraq invasion, refuses to apologize for toppling Saddam
In October, a secret memo from former US Secretary of State Hillary Clinton's email account suggested that Blair had committed the UK to war up to a year before the invasion, and in advance of the so-called "dodgy dossier" on chemical weapons.
Among the leaked papers is one written in March 2002 by former US Secretary of State Colin Powell to then-President George W. Bush, where he said: "On Iraq, Blair will be with us should military operations be necessary…He is convinced on two points: the threat is real; and success against Saddam will yield more regional success."
LISTEN MORE: