'Police forces in England, Wales are too white' – home secretary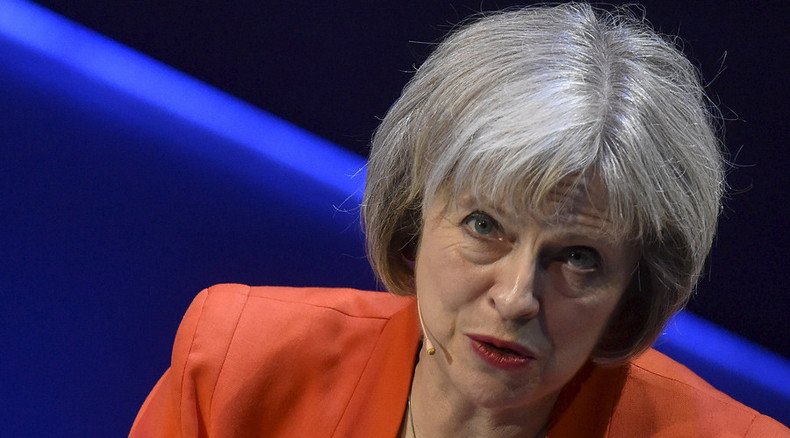 The home secretary has criticized the lack of ethnic diversity in police forces and dismissed "untrue" claims made by Met Commissioner Sir Bernard Hogan Howe that the rise in knife crime is linked to the reining in of stop-and-search powers.
In a hard-hitting speech to a police conference on Thursday, Theresa May said not one of the 43 police forces in England and Wales reflect the communities they serve, claiming they are "too white."
She also challenged Hogan-Howe for saying the rise in knife crime in London is linked to a reduction in stop-and-search.
Hogan-Howe told the BBC in June that, "Over the last three months there has been a rise in stabbings and that has caused us to review our position on stop-and-search ... If we are getting to the stage where people think they can carry knives with impunity, that can't be good for anyone."
Last week, he said the Met Police have been forced to increase the use of stop-and-search in 18 London boroughs due to rising recorded knife crimes.
'Simply not true'
May addressed the National Black Police Association (NBPA) conference, and dismissed the claims.
"[It's] simply not true that knife crime is rising because the police are no longer stopping and searching those carrying knives," she said.
"Properly targeted stop-and-search will actually help reduce knife crime.
"It will save police time to focus on prevention and work with gangs, and it will improve the relationship between the police and the public on which all of your work rests.
"When stop-and-search is misapplied, and when people are stopped and searched for no good reason, it is unfair, it wastes valuable police time, and it damages the relationship between communities and the police."
During the conference, May said the government wants police to "use stop and search properly," not stop using it all together.
"We have brought in much greater transparency and required police forces to record the outcome of each and every stop and search – because only one in ten stop and searches led to an arrest.
"So we have taken action to improve the police response to vulnerable people, and to ensure the police treat the public with respect and professionalism. I have already spoken about stop and search, where much progress has been made but more remains to be done."
According to 2014 figures from the Office for National Statistics (ONS), black people were seven times more likely to be stopped and searched than whites.
'Scarred for life'
In an interview with RT in August, gang mediator and chairman of the Haringey Stop and Search Monitoring group Ken Hinds slammed police for stopping innocent people from ethnic minority backgrounds.
He said this will "scar youths for life" and worsen the "already damaged" police and community relationship.
Hinds said the lack of ethnic minority police officers in London makes ethnic youths feel excluded in their communities.
'No black officers in 4 English forces'
During Thursday's conference, May also pointed out new figures that show four police forces in England and Wales have no black officers at all. These forces are Cheshire, Durham, North Yorkshire and Dyfed-Powys.
According to the figures, 11 of the 43 forces in England and Wales have no black or ethnic minority officers at chief inspector rank or above.
The home secretary said these figures are "simply not good enough."
"There are only two BME chief officers in England and Wales, and 11 forces have no BME officers above chief inspector rank. This is simply not good enough."
May also said there is "much more" that forces can do to improve diversity in recruitment and support officers in progression.
"More diverse police forces mean we can make much better use of the talents and skills of people of all backgrounds and groups – including not only BME communities but also disabled officers, officers from LGBT groups and from all faiths.
"If they do not properly reflect the communities where local officers police, then we cannot truly say the police are the public, and the public are the police."
'Working on improving diversity'
The Met said it is aiming to improve its use of stop and search around London. It also insists it is committed to increasing diversity within the force.
"We are encouraging officers to focus on intelligence-led, targeted stops. This approach has made an impact, seeing grounds to arrest in 20 percent of the people we stop, and a huge reduction in the amount of stops we do," it said in a statement.
"Our clear intention is to continue with the targeted use of stop and search, and the Home Office appears to have misunderstood our response to recent rises in knife crime and our future intentions.
"Stop and search is one of many tactics we will use, and it can remove knives from our streets and deters youngsters from carrying them.
"We are also committed to increasing diversity within our workforce. Whilst there are BME officers represented at every rank up to, and including, Assistant Commissioner - the equivalent of Chief Constable in most forces - we want and need to make more progress."
The Macpherson Report, published in 1999 following the murder of black teen Stephen Lawrence in 1993, branded the Met police "institutionally racist."
It made 70 recommendations, many aimed at improving police attitudes towards racial discrimination.
You can share this story on social media: