Provisional IRA still operating in 'much reduced form' – report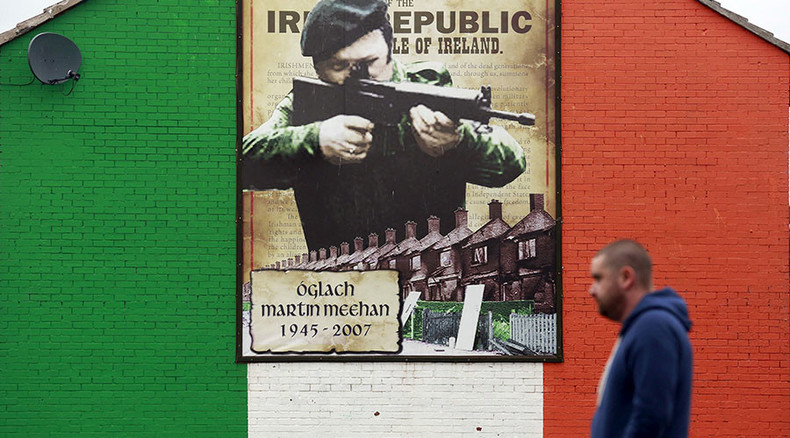 The Provisional IRA is still operating in a "much reduced form," a new report into paramilitary activity in Northern Ireland has shown, with the republican group's supreme decision-making body still in existence.
Northern Ireland Secretary Theresa Villiers stressed to the House of Commons that the group does not pose a threat to the peace process, and that the violence of the Troubles is "well beyond recall."
The report, written by three security experts including Lord Carlile, has been hailed as a "make or break" source of information on the ongoing activities of the Provisional IRA and has largely been focused on the murder of ex-PIRA prisoner Kevin McGuigan earlier this year.
The killing is considered one of the main reasons for the current political crisis in the Northern Ireland Assembly.
Chief Police Constable George Hamilton declared the killing was in response to the murder of IRA fighter Gerard "Jock" Davidson in May.
But despite Hamilton's assertions that the killing had not being sanctioned by the Provisional IRA leadership, many people believed the killing was an act of vengeance.
The report is based on information from both MI5 and the Police Service of Northern Ireland.
It further found that the Provisional IRA "continues to have access to some weapons" despite the arms decommissioning process which took place between 2001 and 2005.
The report also concludes that the Provisional IRA had not tried to access weapons since 2011, but that members are still sourcing intelligence on rebellious republicans as well as targeting informers operating inside the group.
Leadership of the Provisional IRA was found to be focused on the army council, which oversees the political strategy of the republican movement, including Sinn Fein.
The report has been released just weeks after it was revealed former Prime Minister Tony Blair had been asked to give evidence to the Westminster Northern Ireland Affairs Committee.
He was asked to provide information on claims he negotiated compensation deals between the US and Libya in 2008.
US victims of terrorism were compensated £1 billion in return for Libyan immunity from terrorism-related lawsuits, effectively invalidating the claims of British victims who were suing Libya in US courts.
Lawyers for UK victims of attacks in which Libyan arms were used said Blair had "questions to answer" about why they were locked out of the deal amid speculation lucrative business agreements got in the way.
Gaddafi, who was killed during the Libyan civil war in 2011, supplied weapons and Semtex explosives to IRA militants during the Troubles.