'It's possible to be homosexual and extremely brave' - British general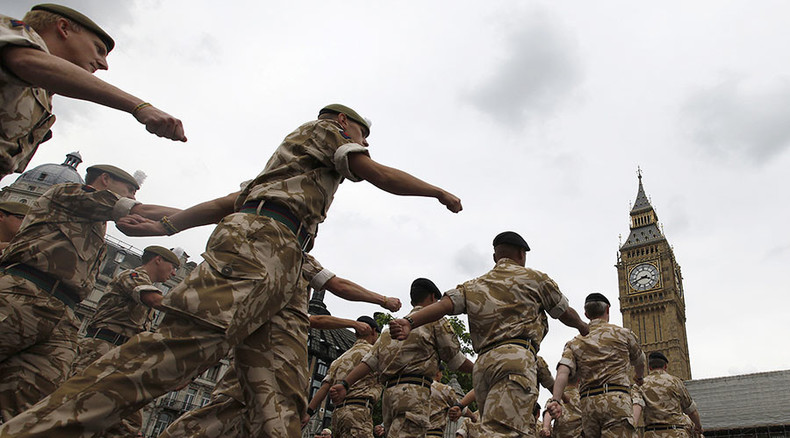 Gays make the army better, the head of the UK Land Forces has said, as a drive to recruit more gay and transgender soldiers gets under way.
"[Diversity] in our ranks gives us a breadth of understanding and capability we don't get in any other way," Lieutenant General James Everard, commander of UK Land Forces, told the Financial Times.
"We need to reach into [places] that probably people would have said were non-traditional — away from the working class of Middlesbrough and all that sort of stuff and into a much more diverse and broader range of characters.
READ MORE: Shrinking army: Recruitment crisis leaves UK military with Napoleonic-era manpower

"That's hugely important for us," he added.
The UK military dropped its ban on homosexuals in 2008, but Everard conceded it is still hard to get people from minority groups to join up.
The army began to record soldiers' sexuality, on a voluntary basis, at the start of 2015. Figures show only 230 out of 80,000 troops said they are gay or bisexual.
"I think that's probably woefully low but actually there are more people that come to the [LGBT] meetings that are gay than have declared they are gay — so that's probably just a confidence thing," the general said.
He said the wars in Afghanistan and Iraq, the first in which openly gay soldiers first served, may have helped shift attitudes.
"Those that were slightly frightened of what they didn't understand — what they learned from those wars, where they fought alongside gay people, was that you can be homosexual and extremely brave … people came back saying, these guys are part of the team."
The drive to liberalize military recruiting and shift commonly held conceptions of the armed forces comes as recruitment figures plummet.
In July, it was reported the British Army is 3,000 troops below its optimum post-austerity strength, leaving manpower at its lowest level since the Napoleonic Wars.
Plans to bolster regular forces with reserves were also hindered by a failure to meet recruiting targets for part-time military personnel.
Plans to use reservists as a flexible option to bolster the full-time army have been badly affected by a lack of fresh recruits.
In June, the Major Projects Authority (MPA) watchdog said army reservist recruiting targets were "unachievable" despite an expensive recruiting drive by the Ministry of Defence (MoD).
READ MORE: 'All at sea': Royal Navy faces 'perilous' 4k sailor shortage, looks to foreign recruits

Earlier this month, it was reported the Royal Navy faces a "perilous" shortage of up to 4,000 sailors due to cuts and recruiting shortfalls that may leave the service unable to man its ships.
"From a naval point of view, there is a serious problem. It's said to be when I last spoke to the Fleet Commander, of the order of 3,500 to 4,000 people," former Vice-Admiral Sir Jeremy Blackham told the Daily Mail.