Scrapping Human Rights Act will leave soldiers vulnerable – campaigners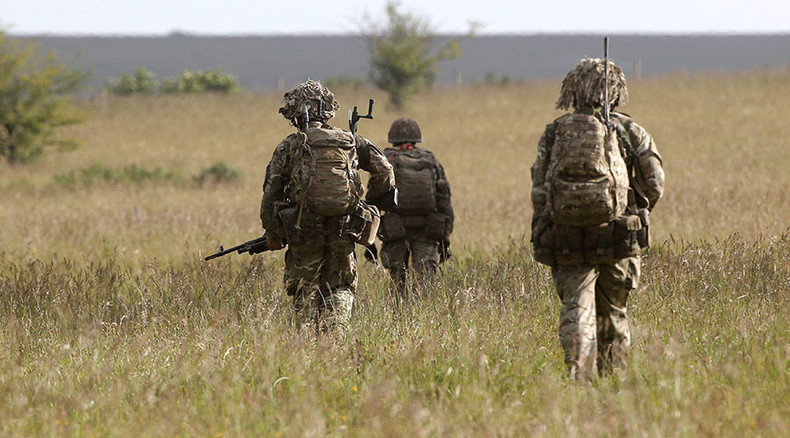 Government plans to abandon human rights laws in times of war could leave soldiers and their families vulnerable to Ministry of Defence (MoD) failures, campaigners claim.
A campaign to counter the assault on human rights legislation was launched on Monday under the name 'Act For The Act.'
"Act for the Act is urging Justice Secretary Michael Gove to think again," the group's website explains. "Scrapping the Human Rights Act would leave all of us unprotected when something goes wrong – and mean we have little chance of putting things right."
READ MORE: UN official blasts Tory plans to scrap Human Rights Act

The lawyers and activists involved, including Clive Stafford-Smith of the charity Reprieve, plan to use a series of high profile billboards placed across the UK to highlight how the laws have helped people, including families of service personnel killed in the line of duty, to get justice.
The campaign cites the case of Catherine Smith, whose son Private Jason Smith died of heatstroke in Iraq in 2003.
The Smiths' 2009 legal challenge, which utilized human rights laws, resulted in a high court decision that all inquiries into such deaths be carried out independently in the future and that human rights laws applied to military personnel wherever they were serving.
The case means that now all personnel must have adequate access to medical facilities, equipment and be properly cared for.
The family's lawyer, Jocelyn Cockburn said at the time "the implications of this judgment are simple – our armed forces now have the same protections as the rest of us.
"Soldiers have the right to know, when risking their lives for us, that we have taken reasonable steps to protect them," she added.
Senior figures are currently drawing up plans to withdraw from the European Convention on Human Rights (ECHR) during times of conflict, claiming that the convention leaves soldiers vulnerable to being sued for actions carried out during wartime.
New measures may also include legally attacking law firms who bring such cases, laws to recover the costs of 'bogus' judicial reviews and a time limit on raising legal claims against the military.
High profile military figures also claim that human rights laws lead to false claims being brought by lawyers and are effectively hamstringing the UK's offensive warfighting capacity.
Former British Army colonel Tim Collins, who served in Iraq, wrote in a column in the Telegraph on Monday, saying that "it's about time."
He mentioned human rights law, which had been conceived in the wake of the Second World War, are now used as a money spinner by "unscrupulous lawyers to line their pockets in spurious inquiries that have cost millions," and by those who "detested the UK, those who were liberated and resented it and those looking for a quick quid" once they had "spotted a gap in the compensation market."
There are also plans to replace human rights law with a British Bill of Rights which would provide special measures for military personnel.
Other examples of human rights law being used to benefit military personnel and their families include a number of cases in which inadequately protected Snatch land rovers were hit by roadside bomb in operations in Iraq and in cases of friendly fire, also in Iraq.