Foreign Office cleaners sacked after asking Philip Hammond for pay rise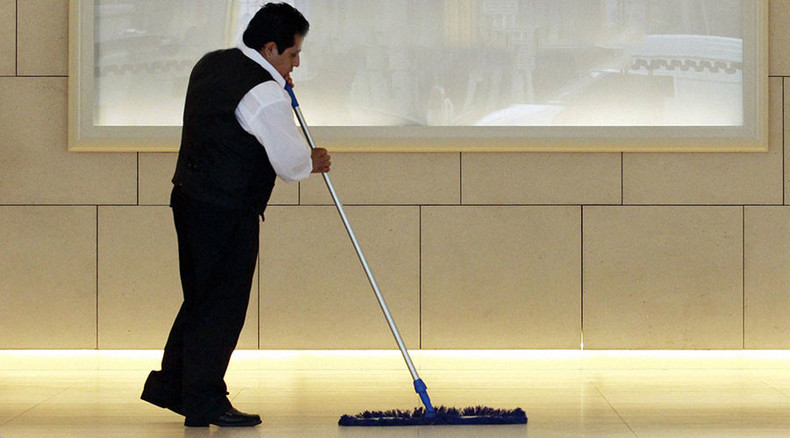 Labour Party shadow ministers demanded an investigation on Monday into why cleaners at the Foreign & Commonwealth Office (FCO) face disciplinary action by management after asking Foreign Secretary Philip Hammond for a pay rise.
Fourteen cleaning staff sent a letter to Hammond in July in which they discussed how their £7.05 (US$10.90) per hour pay rate was £2.05 below the London Living Wage and not enough to live on.
Managers at Interserve – the firm contracted to clean the FCO – summoned the 14 workers to individual meetings and accused them of "bringing the contract into disrepute." A copy of the letter was used as evidence.
Three cleaners, including union organizer Katy Rojas, 44, have been made redundant, while the remaining 11 workers are under investigation by Interserve.
Cleaners protested against the disciplinary action outside Parliament on Monday morning with supporters from Citizens UK, a community action group.
Shadow Foreign Secretary Hilary Benn said the case was "extraordinary" and called for an immediate investigation led by Hammond.
Cleaners at the FCO are paid just over the national minimum wage, which will rise to £7.20 per hour when the government introduces a "national living wage" for over-25s next April.
In a letter to the Foreign Secretary, cleaners said they felt the new pay rate is insufficient for living in London and asked him to consider introducing the London Living Wage of £9.15 per hour, as calculated by the Greater London Authority.
Six weeks later, Interserve warned Rojas, a cleaner from Ecuador, that she could be suspended and invited her to a meeting to "voice your version of events."
"They showed me the letter and asked, did I sign the letter? I said 'Yes'," Rojas told the Independent. "My boss laughed at me and said – you will get nothing from the minister."
Rojas was warned she could have broken the terms of contract and "embarrassed them in front of the FCO."
"It is not a crime to ask for better wages for me and my workmates. What they pay is not enough for any of the people who work hard. Cleaning is horrible and hard work. No one should be treated like a criminal and made redundant because I spoke out for me and my workmates," she told the Guardian.
"It is extraordinary that cleaners working at the Foreign and Commonwealth Office appear to have been called in by their employer because they had had the temerity to write a letter to the foreign secretary about their rates of pay. Philip Hammond needs to investigate Interserve's conduct immediately," Benn said.
Shadow Chancellor John McDonnell also voiced concerns over the incident, calling for the government to set better guidelines so staff could get a fair day's wage for a fair day's work.
"The Tories like to talk the talk on the living wage, but as they have shown with their own living wage not even being a proper living wage, they seldom match their own empty words," he added.
Citizens UK has asked Hammond to reinstate the cleaners and match other government departments which already pay the London Living Wage.
A spokesman for the FCO said redundancies were made a result of moving offices from the Old Admiralty Building.
"Our contractor, Interserve, has assured us that no one has been made redundant as a result of a letter asking for an increase in pay. From April 2016, all Interserve staff will benefit from the new mandatory national living wage."
An Interserve spokeswoman insisted the redundancies had nothing to do with the letter of complaint.
"Interserve is committed to paying its employees a fair wage and our personnel will benefit from the new national living wage when it comes in effect next year," she said.