Police officer shot in East London anti-gang operation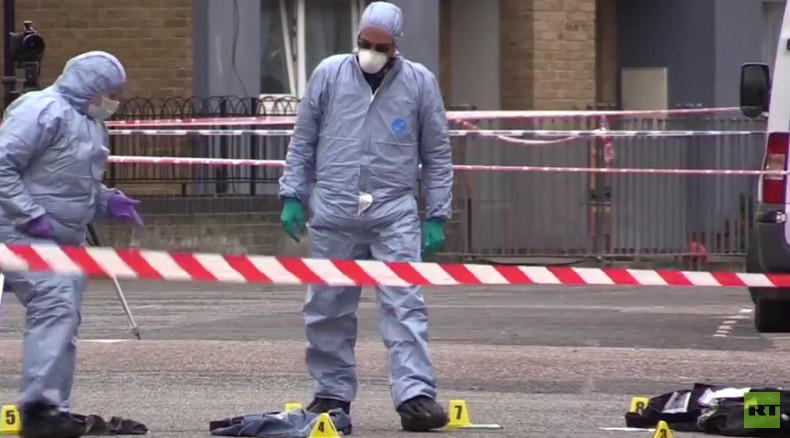 A British police officer is in a stable condition after being shot during an anti-gang operation in East London, Scotland Yard has said.
The male officer was taken to hospital after suffering a gunshot wound. His family has been informed.
Shots were fired as the Metropolitan Police firearms unit SCO19 and anti-gang unit Trident Area Crime Command were executing an operation at 12:45pm in Scriven Street, Hackney.
Police arrested a suspect at the scene. In an update, the Metropolitan police said the officer is in a stable condition after being taken to an East London hospital by air ambulance.
"We were called to a police incident near Haggerston Road in Haggerston," a London ambulance service spokesman said.
"We sent a number of resources to the scene including an incident officer and London's air ambulance. We treated one patient who was taken as a priority to hospital by air."
A local resident, who asked not to be named for fear of reprisals, told the Guardian he witnessed the shooter trying to escape from police.
He said the suspect lives in a house opposite to him and that he witnessed the police operation unfold.
"I was in my living room watching TV when I saw a load of armed officers outside my house," he said. "A black man appeared in the window opposite. They ordered him to remain inside but he threw something out the window.
"The next thing I know I see him running over the rooftops. I then heard a loud bang. A single bang coming from Scriven Street.
"I now know an officer was shot and it was gang-crime related. It's left me feeling really frightened."
Local resident David Silvester also witnessed events unfold.
"I heard some yelling so I came outside and I saw lots of officers dressed in green and wearing helmets scrambling around. I heard a shot fired and then a woman, who I think was undercover got out of her car and said: 'Oh my god, Nick's been shot,'" he said.
"People were pointing towards Lovelace Street and saying the suspect had run off in that direction and so the officers ran off towards that road."
In a statement, the Metropolitan police said there are "no reports of any other injured persons at this time."
Eye-witnesses described seeing "lots of police officers" and "armed police" flooding Hackney after the shooting.
We are pleased to say the police officer involved in the firearms incident in #Haggerston#Hackney is in a stable condition in hospital

— Metropolitan Police (@metpoliceuk) October 15, 2015
Kaner Korbay, who runs a nearby dry cleaners, said the officer was undercover at the time he was shot.
"Apparently an undercover police officer was chasing them and one of the guys running away turned around and shot him."
Another local resident, who has lived in Hackney for 21 years, said he had "never seen anything like this."
Kirit Shah, who runs nearby Haggerston Pharmacy, told The Independent that the shooting took place behind the community center.
"I just heard a shot and very soon there were lots of police everywhere. From what I understand, the shooting happened behind the community center."