Anti-racism activists head to Calais, oppose Tory refugee policy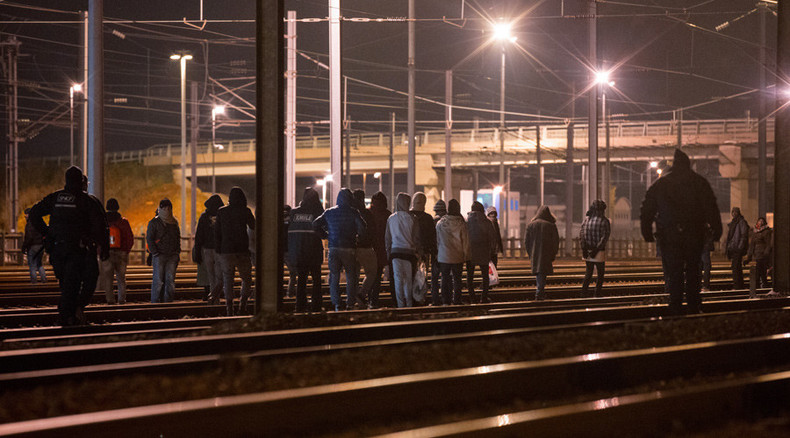 The campaign group 'Stand Up To Racism' will send a delegation of activists to the Calais 'jungle' refugee and migrant camp on Saturday to show their solidarity and demonstrate their opposition to the British government's refugee policy.
Prime Minister David Cameron announced last month that the UK will accept 20,000 Syrian refugees by 2020. But critics say this is "too little, too late," and have urged the British government to do more.
Criticism of the government's rhetoric became more intense after Home Secretary Theresa May told Conservative Party Conference delegates that it is "impossible to build a cohesive society" with high levels of immigration.
Stand Up To Racism says it is "crucial" to show that British people stand in solidarity with refugees and migrants, especially as winter weather promises harsher living conditions for those in camps.
"It is crucial we step up our solidarity with migrant and refugees who are living in atrocious conditions in Calais with winter soon to be upon them," the campaigners argue.
"Theresa May used her conference speech last week to attack refugees in Europe as 'bogus' and said high levels of immigration harms the cohesiveness of society. But the overwhelming solidarity shown by people in the UK and beyond, as well as the resilience of the refugees themselves has the potential to put the government on the back foot."
The group also references a letter sent to Prime Minister Cameron by 77 senior legal figures who have called on the government to take more refugees.
Their show of solidarity comes days after the UN human rights commissioner accused British and European governments of dehumanizing refugees and migrants by using language reminiscent of the rhetoric used to abandon German and Austrian Jews, paving the way for the Holocaust.
Zeid Ra'ad al Hussein called the language of many European politicians "bewildering," arguing that terms like "swarms of refugees" dehumanize people.
He said the language being used to describe the crisis reminds him of the 1938 Evian conference, where leaders from the US, UK, and Australia refused to take in Jewish refugees, arguing that they would be too disruptive to the economy.
The human rights commissioner said the decisions made at the conference led Hitler to consider extermination as an alternative to deportation.
"If you just look back to the Evian conference and read through the intergovernmental discussion, you will see that there were things that were said that were very similar.
"Indeed, at the time, the Australian delegate said that if Australia accepted large numbers of European Jews they'd be importing Europe's racial problem into Australia. I'm sure that in later years, he regretted that he ever said this – knowing what happened subsequently – but this is precisely the point. If we cannot forecast the future, at least we have the past as a guide that should wisen us, alert us to the dangers of using that rhetoric," he said.