'Brexit jeopardizes UK economy': Pro-EU campaign launched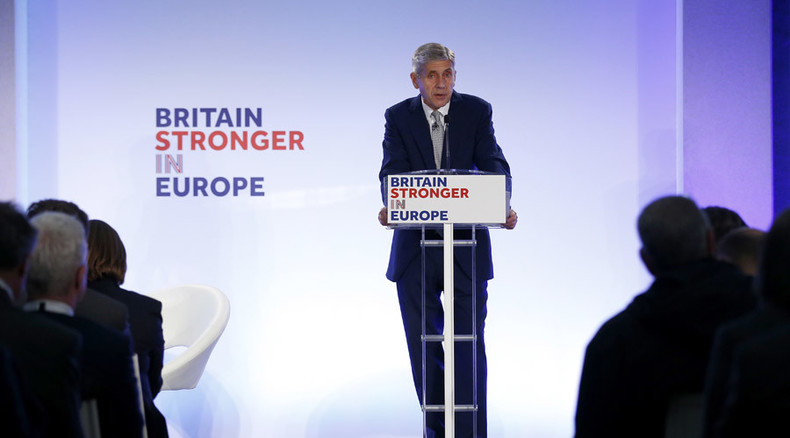 The UK's official pro-Europe faction has launched its campaign to keep Britain inside the 28-member bloc, with its chairman, Lord Rose, warning that leaving the European Union could herald an era of financial uncertainty for Britain.
Speaking at the launch event of "Britain Stronger in Europe," Rose, a former Marks & Spencer CEO, said: "Leaving Europe is a leap in the dark and I don't believe that is a risk that is worth us taking."
In his speech, Lord Rose, a Conservative life peer whose full title is Baron Stuart Rose of Monewden, focused on the economic wisdom of staying in the EU.
"The choice facing us in this referendum is the biggest choice that we have had in perhaps a generation: Do we remain part of the largest free trade market on the planet or do we walk away, perhaps risking jobs, creating uncertainty in our economy?"
Rose also appealed to patriotic sentiment.
"To claim that the patriotic course for Britain is to retreat, withdraw and become inward-looking is to misunderstand who we are as a nation.
"I will not allow anyone to tell me I'm any less British because I believe in the strongest possible Britain for business, for our security and our society."
Rose noted he is not "uncritical" of the EU and lent support to Prime Minister David Cameron's efforts to renegotiate membership terms.
READ MORE: Brexit may benefit UK financial sector – economist
"That's why I signed a letter arranged by [anti-EU lobby group] Business for Britain calling for reform of the EU. Wanting reform, however, is not the same as wanting to leave," he said.
Cameron has pledged to hold a referendum on EU membership by the end of 2017 after a surge in support for the staunchly Eurosceptic United Kingdom Independence Party (UKIP) ahead of May's general election. Cameron is first attempting to renegotiate the terms of Britain's relationship with Brussels, as various "in" and "out" campaigns attempt to woo the public ahead of the vote.
Last week, the PM reiterated his commitment to seeking reform of the EU from within.
"We all know what's wrong with the EU – it's got too big, too bossy, too interfering. But we also know what's right about it – it's the biggest single market in the world," Cameron told delegates at the Conservative party conference last week.
READ MORE: 'Too big, too bossy': Cameron vows to redraw UK's place in EU
Among the "Out" groups gearing up to campaign ahead of the planned referendum is Thatcher-era finance minister Nigel Lawson's Conservatives for Britain. When the anti-EU group was launched earlier this month, Lawson urged other Tory voices to join him, warning that if they stayed silent "less moderate, xenophobic voices will dominate the debate."
Meanwhile, in September controversial UKIP leader Nigel Farage launched the Leave-EU group, backed by millionaire donors Arron Banks and Richard Tice.