'Stepping up Syria intervention will increase violence, chaos & suffering' – Stop the War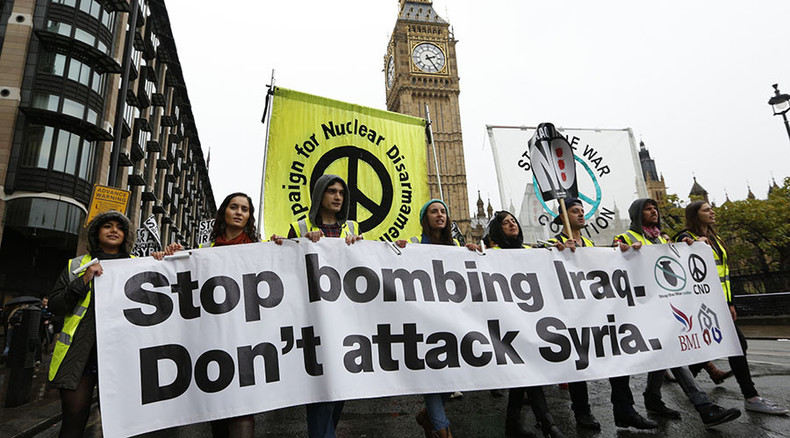 Prime Minister David Cameron's only solution to crises like the one in Syrian is to drop bombs, a move which will make the situation worse in every respect, Stop the War coalition convener Lindsey German has warned.
Writing on the coalition's website on Thursday, German warned the government is preparing to push for a parliamentary vote on bombing Syria.
"Cameron is pushing for another vote on military escalation, and is likely to table such a vote when Parliament resumes sitting in October," she wrote.
"Stepping up intervention in Syria will only increase the violence, chaos and suffering there. It will also lead to an increase in the number of people fleeing the already war-torn country."
German compared the failed vote to bomb Assad in Syria in 2013 with the potential new ballot to bomb Islamic State (formerly ISIS/ISIL), saying that Cameron's "only consistency lies in the fact that in either case his solution is bombing."
She also dismissed the idea that the motive for bombing was humanitarian, instead arguing Britain's record showed it was driven by "military and political power and strategic control of the Middle East."
German accused Britain of being the most aggressive country in Europe over the last 15 years. After bombing Libya, Iraq and Afghanistan the country had done "little to help the victims of the wars it so enthusiastically pursues and it has been at the forefront of opposing a humane policy towards refugees."
Senior government figures maintain the only response to the brutal reign of the extremist group is to extend airstrikes, which the UK is currently allowed to conduct in Iraq, into Syrian territory.
READ MORE: British govt 'slowly building consensus' for Syria bombing – Fallon

Ahead of a defense summit held in Brussels on Thursday to discuss the Russian military intervention in the region, defense secretary Michael Fallon said the British government is "slowly building a consensus" among MPs.
Asked about the possibility of a parliamentary vote on bombing, Fallon told the BBC: "ISIL is organized and directed in northeast Syria [where it] is being targeted by America, French and Australian air forces.
"When we've got a consensus, we will go to parliament and have the vote," Fallon said.