British govt 'slowly building consensus' for Syria bombing – Fallon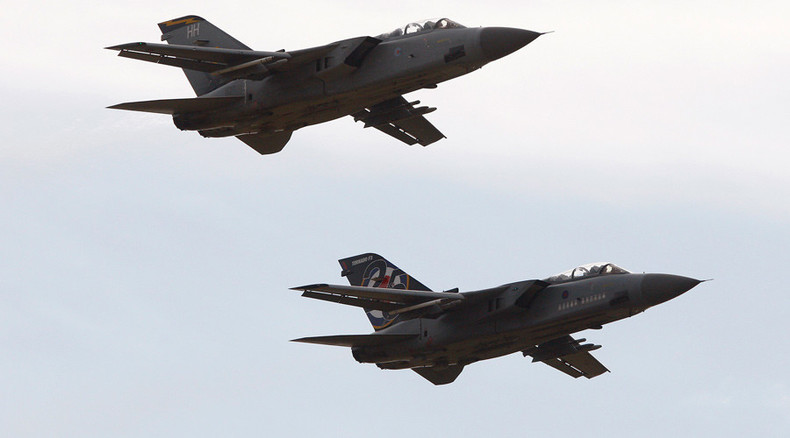 Russia must stop "conniving" with Bashar Assad, says Defense Secretary Michael Fallon, claiming the British government is building a consensus to launch its own airstrikes against Islamic State militants in Syria.
Ahead of a defense summit in Brussels on Thursday, where Russia's intervention in Syria will be discussed, Fallon said the British government is "slowly building a consensus" among MPs.
Asked about the possibility of a parliamentary vote on bombing, Fallon told the BBC: "ISIL is organized and directed in northeast Syria [where it] is being targeted by America, French and Australian air forces."
He indicated the UK government wanted to follow suit.
"When we've got a consensus, we will go to parliament and have the vote," Fallon said.
He told the BBC he and other NATO member state ministers would use the NATO summit to find ways to "encourage the Russians to use their influence to stop propping up the Assad regime – which is bombing its own citizens and has helped to fuel the rise of ISIL."
"We will be coordinating our activity to make sure the Russians actually start to respect some of the rules," Fallon said. "They've had incursions into Turkish airspace. Turkey is a member of NATO and we need to tackle that and make sure we can properly focus on the campaign, the battle, against ISIL, which is the real danger."
He also claimed Russian bombing was making Syria a more dangerous place and accused Moscow of "conniving with and propping up" the Assad regime.
The Russian government and the Pentagon are currently negotiating how to avoid coming into conflict with each other's forces, Russia's Defense Ministry said on Wednesday.
"The Russian Defense Ministry has responded to the Pentagon's request and promptly considered the American proposal on coordination of actions in the framework of the fight against the terror group ISIS," Defense Ministry spokesman Igor Konashenkov said, as quoted by Russian news agency TASS.
He added: "In general, these proposals could be accepted for implementation."
On Monday, NATO slammed Russia after its fighter planes strayed into Turkish airspace during the weekend.
NATO-Secretary General Jens Stoltenberg immediately called a meeting of the bloc members on Monday to discuss the situation, which he described as "unacceptable violations of Turkish airspace."
READ MORE: Turkey says 'no tension' after Russian airspace violation mistake, NATO cries foul

However, Russia admitted making a mistake after its warplanes violated Turkey's airspace and Ankara appears to have accepted the explanation, saying there is no ill feeling between the two states.
"Our position is very clear, we'll warn any country that violates our borders in a friendly way. Russia is our friend and neighbor. There is no tension between Turkey and Russia in this sense.The issue of Syria is not a Turkish-Russian crisis," Turkish Prime Minister Ahmet Davutoglu told HaberTurk TV following diplomatic discussion between the two countries.
LISTEN MORE: