Britain to order 4 new Trident nuclear submarines – Cameron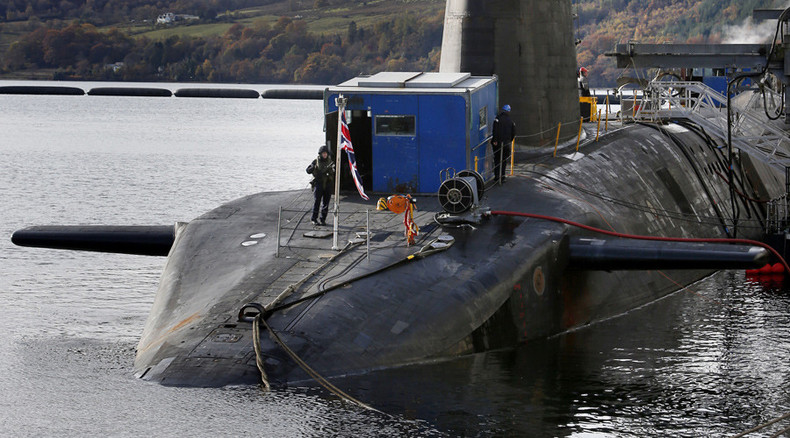 Britain will order four new nuclear submarines, Prime Minister David Cameron has announced at the Conservative party conference in Manchester.
In a clear message to anti-Trident Labour Party leader Jeremy Corbyn, the PM said four new submarines would be ordered to replace the existing fleet, which will be retired.
In his first conference speech since the Tories won a parliamentary majority in May's general election, Cameron used the occasion to present a strong opposition to Corbyn's foreign policy stance, highlighting the importance of a strong nuclear deterrent.
He told a packed hall that the nuclear deterrent is the country's "ultimate insurance policy," adding that the government would commit to the NATO defense spending target of 2 percent of GDP.
"Our independent nuclear deterrent is our ultimate insurance policy – this government will order four new Trident submarines," Cameron said.
The PM further denounced what he called Corbyn's "Britain-hating" ideology, accusing him of being a terrorist sympathizer who believed Osama Bin Laden's death was a "tragedy."
"And on the subject of protecting our country from terrorism, let me just say this: Thousands of words have been written about the new Labour leader. But you only really need to know one thing: he thinks the death of Osama bin Laden was a "tragedy."
"No. A tragedy is nearly 3,000 people murdered one morning in New York.
"A tragedy is the mums and dads who never came home from work that day. A tragedy is people jumping from the towers after the planes hit.
"My friends – we cannot let that man inflict his security-threatening, terrorist-sympathizing, Britain-hating ideology on the country we love," he said.
In response a spokesperson for Corbyn said the speech was a "sure sign that [Cameron] is rattled by the re-energisation of the Labour party.
"With cuts to tax credits and a continued failure on housing, his claim that the Conservatives are the party of the working people is being exposed."
Corbyn used his first speech at the Labour Party conference in Brighton last week to present his opposition to the renewal of the Trident submarine program.
He faced an embarrassing defeat, however, after only 0.16 percent of trade union delegates, who had provided him with much support during the leadership campaign, supported a debate on Trident.
Speaking at the time, MP for Barrow-in-Furness John Woodcock said he was pleased with the result.
"It is good that Labour members have rejected the left's plan to prioritize returning the party to the days of 1980s unilateral nuclear disarmament. This is a welcome sign that many rank-and-file Labour supporters want to keep us focused on the immediate concerns of the public rather than re-running old battles that risk splitting Labour apart," he said.
The new Trident submarines are likely to be built in Barrow-in-Furness, which is home to historic shipyards.
You can share this story on social media: