'Mass migration threatens Britain's social cohesion' – Home Secretary (VIDEO)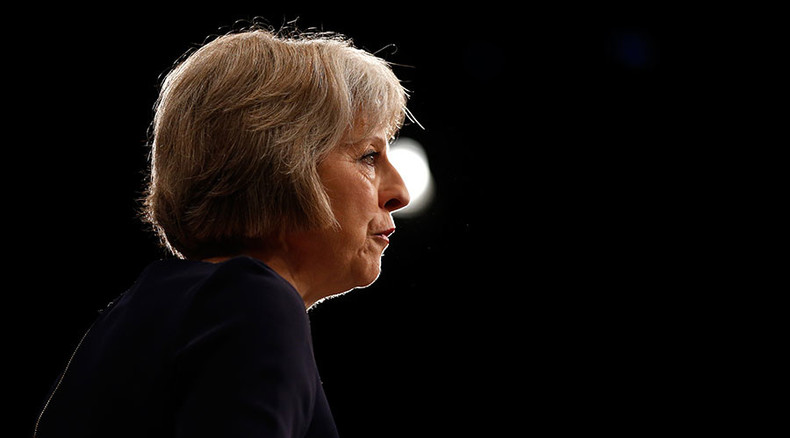 Home Secretary Theresa May issued a stark warning that high levels of immigration are unsustainable and make it "impossible to build a cohesive society" in Britain.
May used her speech at Conservative Party Conference in Manchester on Tuesday to argue that mass migration on the scale seen over the past decade is not in the "national interest."
She claimed that mass migration leads to the undercutting of wages for low-paid workers and joblessness for thousands of others.
The Home Secretary, who is considered a potential successor to Prime Minister David Cameron, addressed the issue of migration weeks after a report found that migration to Britain increased by 24 percent in 2014.
The number of migrants entering the UK rose by 108,000 to 558,000, according to a report published by the Organization for Economic Co-Operation and Development (OECD) last month.
According to the Office of National Statistics (ONS), net migration to the UK was 330,000 in the year to March, far surpassing the government's goal of reducing migration to below 100,000.
May emphasized the social impact of migration in her speech to Tory delegates on Tuesday, claiming it is difficult for schools, hospitals, housing and transport to cope with high numbers of migrants.
"When immigration is too high, when the pace of change is too fast, it's impossible to build a cohesive society. It's difficult for schools and hospitals and core infrastructure like housing and transport to cope," she said.
"And we know that for people in low-paid jobs, wages are forced down even further while some people are forced out of work altogether."
The Home Secretary addressed those who claim the solution is not to reduce the number of migrants, but rather to "manage" the costs of migration.
She argued that some consequences cannot be managed and that they come at a high price.
"Now I know there are some people who say, yes there are costs of immigration, but the answer is to manage the consequences, not reduce the numbers. But not all of the consequences can be managed, and doing so for many of them comes at a high price."
"We need to build 210,000 new homes every year to deal with rising demand. We need to find 900,000 new school places by 2024. And there are thousands of people who have been forced out of the labor market, still unable to find a job," she will add, according to an advance version of her speech given to the media.
The Home Secretary's comments appear to contradict a report published by University College London last November which found that EU migrants to the UK had a positive impact on the nation's economy.
Research by the Centre for Research and Analysis of Migration found European immigrants to the UK paid more in taxes than they received in benefits between 2001 and 2011, contributing more than £20 billion to the Treasury.
On the issue of refugees fleeing warzones, May said it was Britain's moral duty to help them. However, she will argue that border controls are necessary to ensure immigration is selective.
The Home Secretary referred to evidence from the OECD and a House of Lords economic committee which shows that: "While there are benefits of selective and controlled immigration, at best the net economic and fiscal effect of high immigration is close to zero."
"So there is no case, in the national interest, for immigration of the scale we have experienced over the last decade."
Reaction to May's speech
The Home Secretary's speech has been widely criticized from left and right of the political spectrum for being misleading, cynical and opportunistic.
The strongly pro-Tory Daily Telegraph attacked May's speech as "dangerous and factually wrong" and suggested the Home Secretary was fanning the flames of prejudice to promote her own political ambitions.
May came under particular criticism for stating that migration forces some people in low-paid jobs out of work.
Her comments appear to contradict studies by her own department, which found "there is relatively little evidence that migration has caused statistically significant displacement of UK natives from the labor market in periods when the economy is strong."
May's claim that mass migration leads to a depression of wages among low earners has also come under fire.
A study by the London School of Economics published in May found there is "little evidence of a strong correlation between changes in wages of the UK-born (either all or just the less skilled) and changes in local area immigrant share over this period."
The Joint Council for the Welfare of Immigrants (JCWI) attacked May and the government for setting arbitrary migration targets which were unachievable.
"Theresa May says that immigration damages social cohesion. However, it is her government's negative rhetoric and polices that are destroying social cohesion and creating a climate of hostility, not immigration.
"Instead of reinstating the arbitrary net migration target of 'tens of thousands' the government should see immigration as an opportunity for the UK. Migrants are not the cause of the housing crisis and do not represent the sole pressure on services."
The Refugee Council slammed the Home Secretary for attacking Britain's asylum system and setting out plans change the legal definition of asylum and refugee status.
"Everyone would like to see the number of asylum claims in Britain go down: but only because that would mean the world had become a safer, more peaceful place. As it stands, the Home Secretary's ambitions are simply out of step with reality: the world is facing one of the worst refugee crises we've ever seen," the group said.