Tories of the world unite? Conservatives launch 'bizarre' right-wing trade union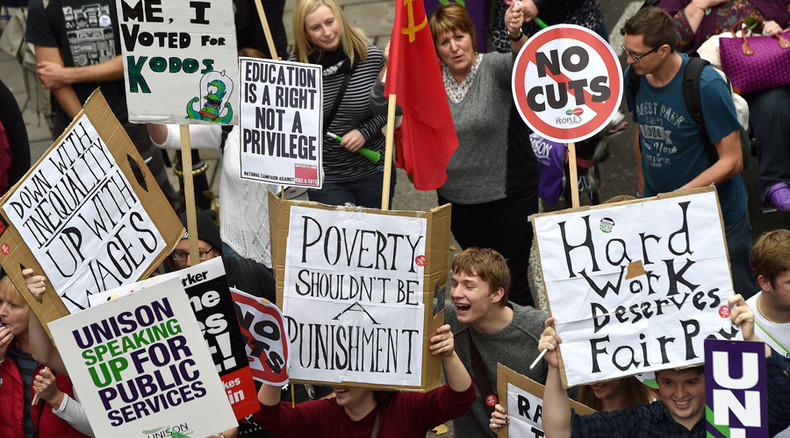 Conservative plans to create trade unions for right-wing workers have been branded 'bizarre', 'weird' and lacking any basis in reality by existing workers organizations.
The Conservative Workers and Trade Union Movement project is aimed at conservative-leaning workers and "moderate" trade unionists, who may be unhappy with "militant" union leaders.
"There will be a voice for moderate trade unionists who feel they may have sympathy with the Conservatives," Tory MP Richard Halfon, who is championing the idea, told the House magazine on Wednesday.
"There will be a new website and people will be able to join," he added.
Halfon is deputy chairman of the Conservative Party and has long supported blue collar conservatism. The initiative is the latest in a Tory drive to appear as the party of the workers.
"We will always be the Conservative Party, but I want also for people to think of us as the Conservative Party for workers, the Conservative Party for working people," he argued.
"And actually, if you look in our history, we always have been the workers' party," Halfon said.
He claimed Conservatives, including former Prime Minister Margaret Thatcher, have been committed to protecting trade unions. He said trade unionism ought to be an activity for the many not just the militant few.
"At the moment, so much of it, you see … a few militant leaders who I believe don't represent the thousands of ordinary trade union members," he said.
Trade union leaders were quick to respond to the plans, branding them a "gimmick."
"No-one will be conned by this nonsense. The Tories are the party of the rich and powerful," TSSA General Secretary Manuel Cortes told Union News.
"Their repeated attacks on workers' rights show they detest ordinary people as actions always speak far louder than words. This is a shallow gimmick without any foundation or basis in reality," he added.
"This is a bizarre development. The Tory government is attacking workers' rights, including the right to be in a union," FBU general secretary Matt Wrack told Union News, referring to the Conservatives' proposed Trade Union Bill.
"The Tories have helped to drive down workers' living standards in order to boost profits for big business," Wrack added.