'RyanFair' hoax claims airline will carry refugees visa-free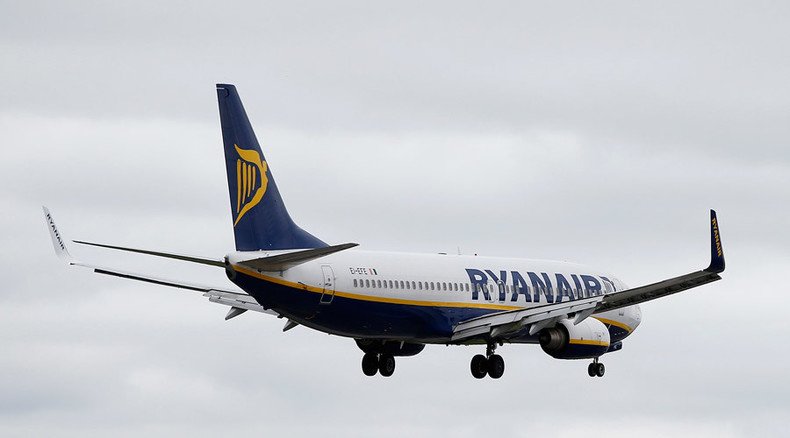 A hoax website masquerading as an initiative driven by budget airline Ryanair has offered to transport asylum seekers lacking the proper documentation, as Europe grapples with one of history's worst refugee crises.
The prank site claims the airline will transport migrants from Greece, Montenegro, Slovakia and Hungary into Western Europe. A spokesperson for Ryanair told RT that the site is "entirely fictitious" and has absolutely no affiliation with the carrier.
The site included a fabricated quote from Ryanair Chief Marketing Officer Kenny Jacobs: "We are facing the biggest humanitarian emergency of our era, confirming our mission: made [sic] air travel accessible to the masses. We decided to open to refugees our routes from Greece and East Europe, violating a rule that simply dumps government responsibilities on the carriers. We will proudly cover all the costs of this violation."
Statement RE refugees issue: The comments attributed to Kenny Jacobs are entirely fictitious & there is no truth to these claims whatsoever.

— Ryanair (@Ryanair) September 30, 2015
A Ryanair spokesperson denied Jacobs or Ryanair are in any way connected with the site or the campaign. "The comments attributed to Kenny Jacobs are entirely fictitious and there is no truth to these claims whatsoever," they said.
In an emailed statement, the website's anonymous creators admitted the campaign is "completely fictional."
"You can frame it as hoax and false. But it is a possible reality," the statement reads.
READ MORE: Mile dry club: Ryanair bans alcohol on Scotland-Ibiza flights
"Some people can fly, others can't. This is the reason why migrants swim, sail and drown. Because other people don't want them to use other means of transportation. I'm not talking about Ryanair. I'm talking about rules, people who made rules and people who respect these rules."
"We have to change rules or violate them."
Europe is currently facing an unprecedented migrant crisis as hundreds of thousands of refugees stream into Europe from war-torn parts of the Middle east and Africa. Without proper visas, migrants undertake treacherous journeys across the Mediterranean.
According to Eurostat, the number of asylum seekers arriving in the EU in the second quarter of 2015, estimated at 213,200 people, is 85 percent higher than during the same period last year.
Some EU member states have advocated instituting a quota system for distributing an additional 120,000 migrants throughout Europe. However, several countries, such as Denmark and Britain, have opted out of proposed quota plan.
You can share this story on social media: