Mile dry club: Ryanair bans alcohol on Scotland-Ibiza flights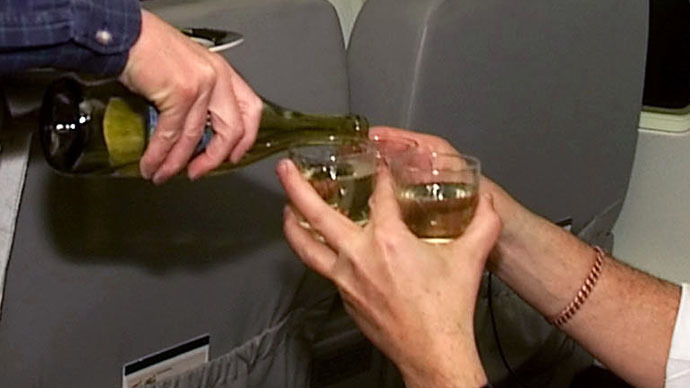 Passengers flying from Scotland to Ibiza with budget airline Ryanair are now banned from taking alcohol on board due to the firm's concerns over "consumer safety" following a series of boozy incidents.
The route has earned itself a "rowdy" reputation over the years. Ryanair confirm they are banning alcohol on this specific route to "control hazardous behavior."
Last September, a group of drunken passengers were filmed chanting and stamping their feet on the plane journey, while in 2013 the flight was diverted to Beauvais airport because of passengers causing trouble.
According to The Daily Record, the airline sent an email to passengers, which read: "Customers will not be allowed to carry alcohol on board and all cabin baggage will be searched at boarding gates."
Any alcoholic substances purchased "must be packed in a suitable item of baggage" which will be placed in the aircraft hold "free of charge," it said.
"Customers attempting to conceal alcohol will be denied travel without refund or compensation," it added.
WHAT...#ryanair bans booze on #Scotland to #ibiza flights after passengers' rowdy behaviour. Oh the misery. pic.twitter.com/QBDWP6Q1RU

— Luigi Giannino (@lgiannino1) April 6, 2015
Planes and trains should let you have a carry on alcohol bag.

— Bazz (@CallMeMrBigs) March 15, 2015
I'm sure it's all due to #football#hooligans! - 'Notoriously rowdy' Ryanair flight draws booze ban http://t.co/i00pUIyhRn

— George Murnane (@gmurnane) April 6, 2015
The airline says the ban "is in the best interests of its passengers."
In a statement, a Ryanair spokesperson said: "The comfort and safety of our customers and crew is our number one priority and we will not tolerate unruly behavior at any time."
Ryanair isn't the only airline to host a series of alarming incidents owing to boozed-up travelers.
Last December, London's Mayor Boris Johnson was involved in a mid-air drama when he tried to calm down a "drunken" passenger on board a Malaysian airlines flight to London.
so impressed w/MH2 cabin crew (Kuala Lumpur-LHR); amazing professionalism/handling of passenger who was off his head pic.twitter.com/IFmUqKsDkD

— Eileen Burbidge (@eileentso) December 3, 2014
The mayor said the passenger was "off his head" and "demanding more drinks."
Overall, alcohol-related incidents on flights have risen in the past 5 years, according to figures released by the UK Civil Aviation Authority (CAA).
The CAA confirmed over 114 incidents of "disruptive" passengers over the past year, with alcohol consumption among the main causes.
A spokesperson for the CAA told RT: "It is actually a specific criminal offence to be drunk on board."
The CAA "support UK airlines' efforts to deal with disruptive passengers to ensure the safety of all those on board," the spokesperson added.
You can share this story on social media: