Climate chaos will spark financial & social crises if govts fail to act – Carney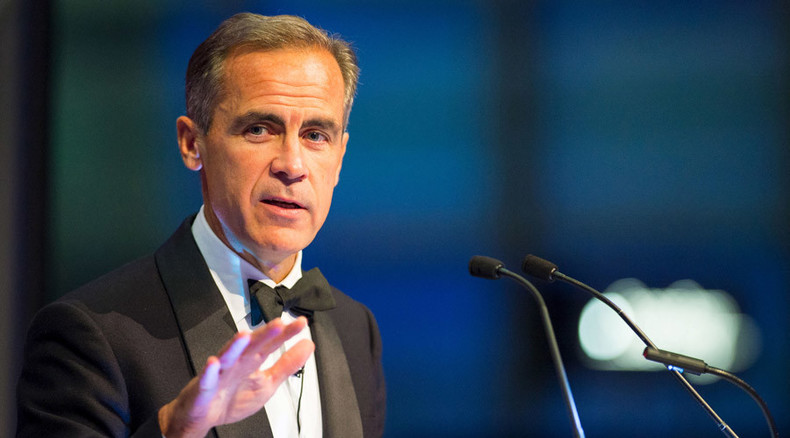 Climate change will breed financial crises and plummeting living standards unless leading states force companies to be transparent about their true carbon emissions, governor of the Bank of England (BoE) Mark Carney has said.
Speaking at a conference hosted by Lloyd's of London on Tuesday, Carney warned insurers are heavily exposed to risks posed by climate change. He argued governments and citizens must act promptly if they are to stave off the catastrophic effects of global warming.
"The challenges currently posed by climate change pale in significance compared with what might come," Carney said.
"The far-sighted amongst you are anticipating broader global impacts on property, migration and political stability, as well as food and water security. So why isn't more being done to address it?"
The BoE chief said a number of proposals for tackling the crisis would be submitted at the G20 meeting in Turkey in November. As part of the summit, developed and developing nations will discuss measures to introduce more stringent corporate disclosure standards, so investors can better gauge risks posed by climate change.
Carney said a growing body of evidence indicates humans' role in climate change is significant. Looking ahead to France's climate change summit in December, he warned climate chaos directly threatens states' "financial resilience and longer-term prosperity."
Carney heads the Financial Stability Board, a body founded in 2009 to monitor risks to the global financial system. Reflecting on climate chaos, he said financial losses will be higher than predicted if recent weather events become normal.
"Climate change is the tragedy of the horizon. We don't need an army of actuaries to tell us that the catastrophic impacts of climate change will be felt beyond the traditional horizons of most actors – imposing a cost on future generations that the current generation has no direct incentive to fix," he told crowds gathered at the Lloyd's conference.
"The horizon for monetary policy extends out to two to three years. For financial stability it is a bit longer, but typically only to the outer boundaries of the credit cycle – about a decade. In other words, once climate change becomes a defining issue for financial stability, it may already be too late."
Carney said climate change can affect financial stability in three ways: a rise in demand for compensation claims from storms and floods; liability risks stemming from victims of climate change who seek compensation, and the revaluation of assets as states move towards lower-carbon economies.
The BoE governor proposed the creation of an industry-led climate disclosure taskforce that could design and deliver a voluntary program to push firms to make their carbon emissions transparent.
"Companies would disclose not only what they are emitting today, but how they plan their transition to the net-zero world of the future," he said.
"The G20 – whose member states account for around 85 percent of global emissions – has a unique ability to make this possible."
Prime Minister David Cameron announced the UK is ready to "play its part" in tackling climate change before a lunch meeting with UN Secretary General Ban Ki-moon and French President Francois Hollande on Sunday.
The PM pledged to contribute almost £6 billion to fighting climate change in developing countries over the next five years, stressing the connection between tackling environmental threats and eradicating global poverty.
However, his announcement was greeted with cynicism by some critics, who noted the funds will come directly out of the state's foreign aid budget.
Council pension funds in Britain have invested £14 billion in the fossil fuel sector, despite the fact these assets risk tumbling in value as the world grapples with climate change. With global oil prices plummeting, and financial analysts predicting further steep declines, fossil fuel investments are unlikely to reap lucrative returns in the short term.
Despite the jeopardy associated with fossil fuel investments, the risks are largely ignored by UK council pension funds, managers and advisers.
Community Reinvest, which is calling upon councils to divest from fossil fuels, says UK pension funds and advisers are shirking their responsibility to drive Britain's low carbon transition.
Britain's most senior business voice has condemned the government's lackluster attempt to build a green economy, warning UK firms are set to lose hundreds of billions of pounds if ministers don't radically reassess their agenda.
Confederation of British Industry (CBI) Director General John Cridland unleashed a scathing attack on the government earlier this month, warning of a decline in green policies since May's general election.
Cridland, who joined the CBI as a policy adviser in 1982, said the government's policy path has left a string of eroded opportunities for green business in its wake.