Murder charges dropped against Sinn Féin leader Gerry Adams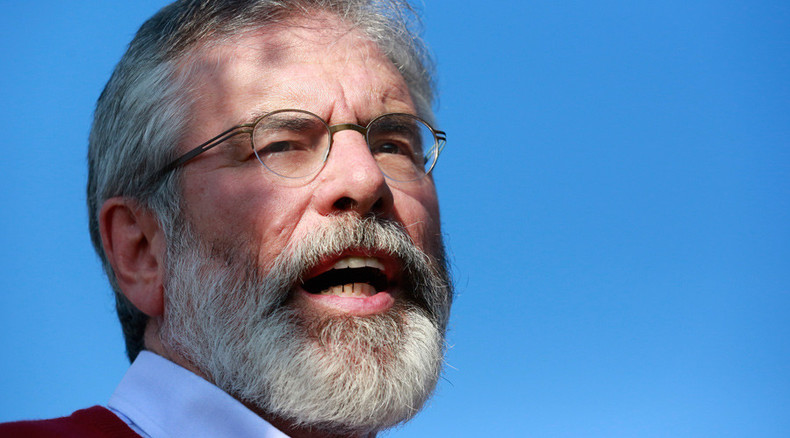 Sinn Féin leader Gerry Adams will not face criminal charges in connection with the 1972 abduction and murder of Jean McConville, Northern Ireland's Public Prosecution Service announced on Tuesday.
The Irish nationalist leader said he was "innocent of any part" in the murder, describing evidence against him as hearsay.
McConville was one of 16 people 'disappeared' by the IRA after it accused them of working as informants for the British security forces.
Northern Ireland's Public Prosecution Service (PPS) said it will not be prosecuting seven individuals in relation to McConville's abduction and murder, including Sinn Féin leader Adams.
Bobby Storey, a senior Belfast republican and aide to Adams, is believed to be among the seven.
PPS Deputy Director Pamela Atchison said on Tuesday there was little chance of obtaining a conviction against any of the suspects.
"We have given careful consideration to the evidence currently available in respect of each of the three men and four women reported and have concluded that it is insufficient to provide a reasonable prospect of obtaining a conviction against any of them for a criminal offence," she said.
An eighth suspect, republican Ivor Bell, has already been charged for soliciting the murder of McConville and is currently before court. He strongly denies the charges.
Adams' arrest last year was based on evidence from the Boston College tapes, a series of recorded testimonies from the IRA and loyalist paramilitary veterans made by researchers in the United States.
Dubbed the 'Belfast Project,' the research was launched in 2001 and was meant become a history of the Troubles.
Former paramilitary soldiers gave a series of candid interviews on the condition they would not be published until after their death.
Northern Ireland's PPS fought a legal battle in the US to listen to the tapes, claiming they contained knowledge of the McConville and other murders.
Speaking on behalf of the family, Jean's son Michael McConville said they were still considering their options.
"Those who ordered, planned and carried out this war crime thought that their guilt could disappear along with her body. But it has not and we will continue to seek justice for our mother and see those responsible held to account no matter how long it takes."
The PPS statement re @GerryAdamsSF and Bobby Storey seemed more an attempt to say they're guilty but we couldn't prove it. Was that the aim?

— Árd Macha (@Ard_Macha) September 29, 2015
The murder of McConville was one of the most controversial of more than 3,000 killings carried out over the course of the Troubles.
McConville was abducted by the Irish Republican Army (IRA) in front of her 10 children and accused of passing intelligence to the British.
The IRA admitted in 1999 that it had murdered and buried her, along with nine other 'disappeared' people, at secret locations.
McConville's body was finally found four years later on Shelling Hill Beach in County Lough in the Republic of Ireland.
Irish police confirmed at the time she had died from a bullet wound to the head. The IRA responded by apologizing for the grief that the murders had caused the families of victims.