'Resistance movement': Labour will back all strikes 'automatically,' says McDonnell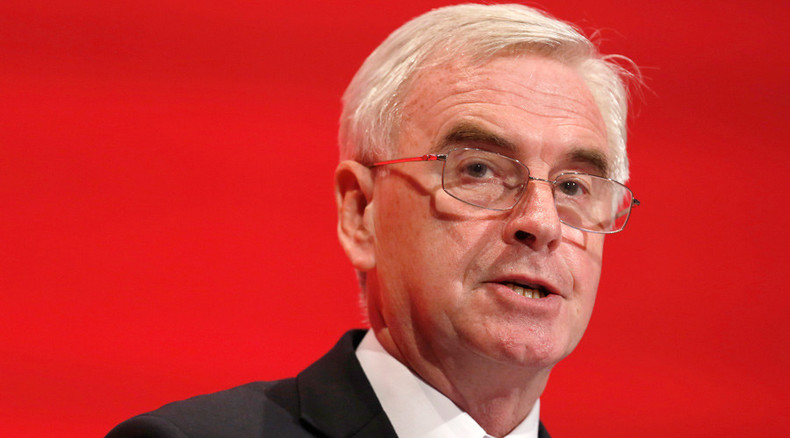 For the first time in its history the Labour Party will 'automatically' back all strikes, according to new Shadow Chancellor John McDonnell.
On Monday evening, John McDonnell told a conference fringe meeting of the Assembly against Austerity in Brighton that the party must have "absolute solidarity" with workers defending themselves against their bosses. The party, he argued, must become a "resistance movement."
READ MORE: 'Marx is back in fashion' - Shadow Chancellor John McDonnell
"That means absolute solidarity," McDonnell said. "The view now is straightforward and I tell you this: if there is industrial action taking place then we should automatically now, automatically come alongside our brothers and sisters in the trade unions and support them."
McDonnell blasted the previous Labour leadership for being weak on industrial action.
"Time and time again in the hierarchy of the Labour Party there has been a hesitancy about this. I think we have to break that hesitancy and give people the confidence and courage and determination to start standing up.
"My role, whether it is in parliament, or on the picket line, is to support workers in struggle. That is what the role of Labour MPs is going to be in the future."
On Sunday, McDonnell told the BBC that Karl Marx has "come back into fashion."
McDonnell said the 19th century socialist revolutionary thinker was a "definitive analyst" of the capitalist system, even though many "might disagree with his conclusions."
He added that Marx's seminal work, "Capital" is essential reading for anyone trying to understand the capitalist system.
Labour leader Jeremy Corbyn's appointment of McDonnell as shadow chancellor ruffled feathers in the party's parliamentary ranks, with some MPs believing his economic beliefs are not centrist enough to win a general election.