Labour will renationalize England's railways, party conference rules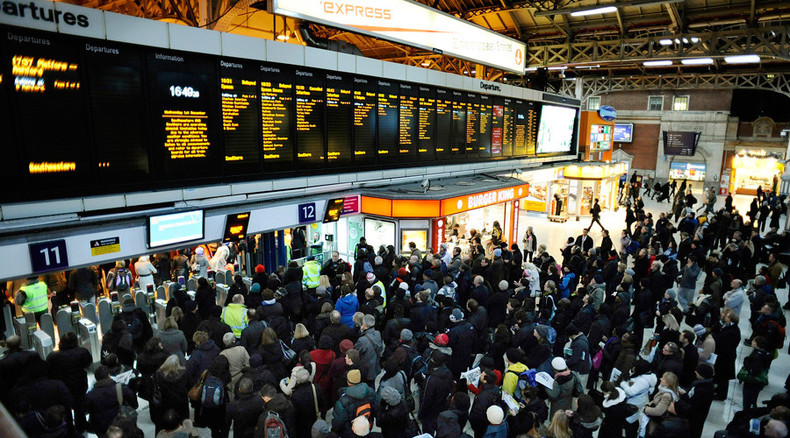 Labour has voted to formally back the renationalization of England's rail network as party policy, a move that will include the controversial HS2 high speed rail link from London to the Midlands.
Party members voted overwhelmingly in favor of a policy statement drawn up by the National Executive Committee (NEC) on Tuesday calling for franchises to be nationalized as they expire.
The outcome is a significant boost to Labour leader Jeremy Corbyn, who made renationalization of the railway a major promise of his election campaign.
Transport spokeswoman Lilian Greenwood said the railway was inefficient and among the most expensive in Europe.
"Twenty years ago we were told that privatization would deliver cheaper tickets and lower subsidies," she said.
"What we have been left with is some of the most expensive tickets in Europe and an efficiency gap of 40 percent.
"The Tories will tell you the railways cannot change ... it falls to us to set out a better way. That's why I say it is time for our railways to be run under public ownership, in the public interest, with affordable fares for all," she added.
Labour will set up a rail taskforce that will investigate how to carry out renationalization of the railway, according to the NEC policy statement.
The taskforce will look into introducing break clauses into rail franchises to accelerate the process when it is in the interests of passengers and taxpayers.
Five rail franchises are due to expire between 2020 and 2025. Labour says nationalizing them won't involve any costs, as the state will only step in when the contracts end.
The taskforce will look into creating a "new dynamic public operator" to reinvest profits from private rail operators into cutting fares and rail infrastructure.
It will also oppose any attempt to break up or privatize Network Rail, the state-owned company, which owns and runs most of the rail network in England, Scotland and Wales.
Research published by campaign group Action for Rail in March this year indicated nationalizing Britain's railway could cut rail fares by up to 10 percent.

A poll conducted by YouGov in August found the majority of Britons support renationalizing the railways, water companies and other utilities.
The survey of 1,707 British adults found that 58 percent are in favor of the move, while 17 percent are against.
Union chief Manuel Cortes welcomed the move by Labour, describing it as part of a wider political campaign against neo-liberalism.
"I'm absolutely delighted that after years and years of campaigning the Labour Party has finally seen sense and that we are telling the British people that there is clear red water between us and the Tories when it comes to our railways. We will be running our railways in the interests of passengers and taxpayers," the Transport Salaried Staff's Association (TSSA) General Secretary said.
"Yesterday we had a magnificent new shadow chancellor telling us that we are the anti-austerity party.

"Well, today when you vote for this statement we are also the anti-neoliberal party because privatization, deregulation, they all come from the same neoliberal tool box that gave us financial deregulation and brought our economy to the edge of the abyss. No more I say," he added.
While Corbyn will be pleased Labour fulfilled this major campaign pledge, his supporters will be disappointed the conference ruled out renationalizing the Big Six energy companies on Tuesday.
Shadow Energy Secretary Lisa Nanda said the party would instead "do something far more radical – we want to democratize it."
Nandy said Labour will push for every community in the country to own a clean energy power station.
"With the right support, community-based energy companies and cooperatives could be a new powerhouse, and a path to a more secure energy future," she added.