'Lipstick on a pig': EC's proposed corporate court system slammed by campaigners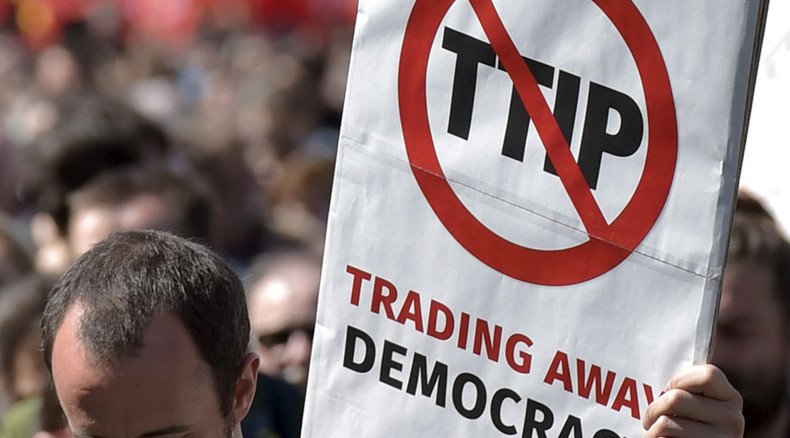 Campaigners sharply condemned a European Commission (EC) proposal to create a new corporate court system to replace its highly controversial Investor State Dispute Settlement (ISDS) mechanism on Wednesday.
The ISDS system is central to an EU-US trade agreement being negotiated behind closed doors, which could allow corporations to sue governments if they act against their interests.
Known as The Transatlantic Trade and Investment Partnership (TTIP), the trade deal has been shunned by almost 3 million European citizens. Some 97 percent of respondents to an EC consultation flatly rejected the trade deal's ISDS dimension.
The EC put forward a proposal for an alternative court system on Wednesday – a move it said would make the ISDS mechanism more transparent and allow states to appeal against multinationals' legal challenges. But campaigners say the suggested changes are merely cosmetic, and would still allow corporations to sue governments in secret court settings.
Another EU-Canada trade deal known as the Comprehensive Economic and Trade Agreement (CETA), which is currently awaiting ratification, contains an old version of the ISDS mechanism. It has also received widespread opposition from campaigners worldwide.
Global Justice Now director Nick Dearden said the EC's proposed new court system is effectively "a PR exercise."
"The European Commission says that this new proposal is based on 'substantial input' from its public consultation, but 97 percent of the thousands of responses it received in this consultation were clearly opposed to ISDS in any form," he said on Wednesday.
"This alternative proposal is essentially a PR exercise to get around the enormous controversy and opposition that has been generated by ISDS."
Dearden said the proposed corporate court system will still give corporations unnerving new powers.
"The Commission can try to put lipstick on a pig, but this new proposal doesn't change the fundamental problem of giving corporations frightening new powers at the expense of our national democracies," he said.
"Although a little more transparency is no bad thing, the real issue at hand here is that of corporate power.
"This change shows the European Commission is feeling the pressure of nearly 3 million people opposing TTIP and CETA, the two looming deals featuring ISDS," Dearden added. He noted, however, that the EC has failed to halt the ratification of CETA.
Redacted documents detailing covert meetings between the EC and powerful tobacco lobbyists recently compounded fears TTIP would allow tobacco giants to sue governments that attempt to legislate in the public interest.
The documents, which confirmed the EC had met with lobbyists paid to peddle the interests of Big Tobacco, were published in late August.
This glaring lack of transparency sparked widespread fear among TTIP's critics that the trade deal would empower tobacco giants to sue governments that seek to regulate the tobacco industry more stringently.
Powerful tobacco firms have previously used comparable trade deals to sue the governments of other states, who sought to crack down on its advertising.
US tobacco giant Phillip Morris previously took legal action against the Australian government after it introduced mandatory plain cigarette packaging. The firm is also embroiled in a $25-million lawsuit against Uruguay's government in a bid to stop it from enlarging health warnings on cigarette packaging.
You can share this story on social media: