Britain offers warship for combative mission to tackle refugee crisis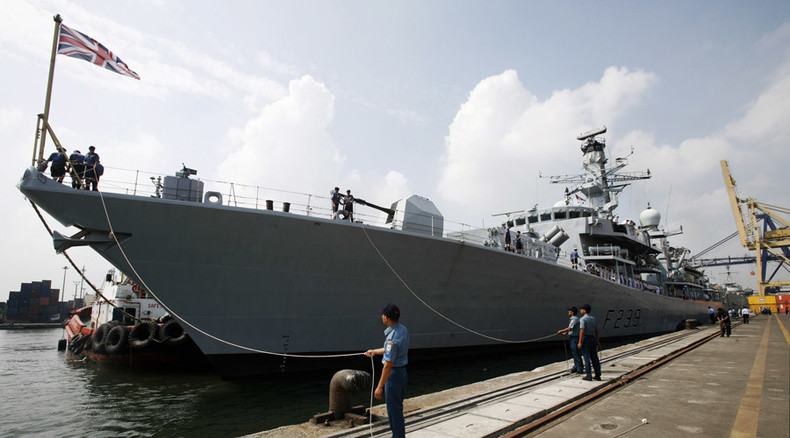 Britain will commit a warship with 200 sailors and Royal Marines to Europe's first offensive campaign against people smugglers, believed by some to be driving the global asylum seeker crisis.
HMS Richmond, a Type-23 frigate complete with Lynx helicopter and surveillance drone, will assist the offensive mission scheduled to play out in international waters from October until mid-December.
A separate Royal Navy ship, which is currently patrolling the high seas to prevent asylum seekers from drowning, will also remain for longer in international waters as the EU operation moves into a more combative phase.
Critics say Prime Minister David Cameron has concocted a smokescreen around the UK government's obligation to assist asylum seekers fleeing dangerous circumstances in their homelands.
More than 100,000 people marched in cities across the UK on Saturday to demand Cameron allow more refugees to enter Britain. A further 1,000 social justice campaigners gathered outside the European Parliament in Brussels on Monday demanding a more humane response across to the crisis.
Britain's Secretary of State for Defense Michael Fallon said the UK government is determined to address the global refugee crisis at its source.
"We will not stand by and let this smuggling trade escalate," he said.
"We will confront this criminal activity which risks the lives of innocent people every day."
The leaders of EU nations contributing to the operation are set to meet in Brussels on Wednesday to discuss what each country will offer in terms of aircraft and ships. Under this combative phase of the mission, ships will dispatch armed parties to intercept people smugglers in their boats before they enter or make their way out of Libyan waters.
A United Nations Security Council resolution supporting the mission is currently being blocked by Russia and China. As a result, marines and special forces partaking in the operation will be instructed to intercept and board vessels without a mandate.
In the absence of such a mandate, British and other EU warships cannot stop vessels in international waters without the consent of the state where the ship is legally based.
Europe's response to the asylum seeker crisis has been the subject of criticism worldwide. Until now, it has primarily focused on deploying ships to take people off boats operated by people traffickers before they get into trouble. EU leaders have also launched rescue missions to save those in danger of drowning in the Mediterranean.
This latest operation will resemble a counter-piracy operation off the coast of Somalia, where EU vessels use force to jump on board boats and detain crew members.
Britain's contribution would last for up to eight weeks. Westminster plans to offer two ships, a drone and two helicopters in the hope that this will encourage other states to commit manpower, aircraft and ships.
On Tuesday, the Hungarian government blocked the southern border with Serbia, laying down a fence and declaring a state of emergency in two of its southern counties. Under new legislation introduced last week, Hungarian police will arrest people who attempt to cross the border illegally.
Hungarian authorities have also unveiled plans to close the border with Romania. This is turn has prompted Serbia to warn it will not become "a collection center" for refugees.
Austria has also phased in security checks along its border with Hungary, a measure it says may be extended to its borders with Italy, Slovenia and Slovakia if necessary.
Asylum seekers are trying to forge new routes across the continent in response to the restrictions at Hungary's border.
A group of 30-40 Syrian and Afghan nationals arrived at the Serbian town of Sid adjacent to the Croatian border early on Wednesday morning.