Anti-drone shield system revealed at London defense expo (VIDEO)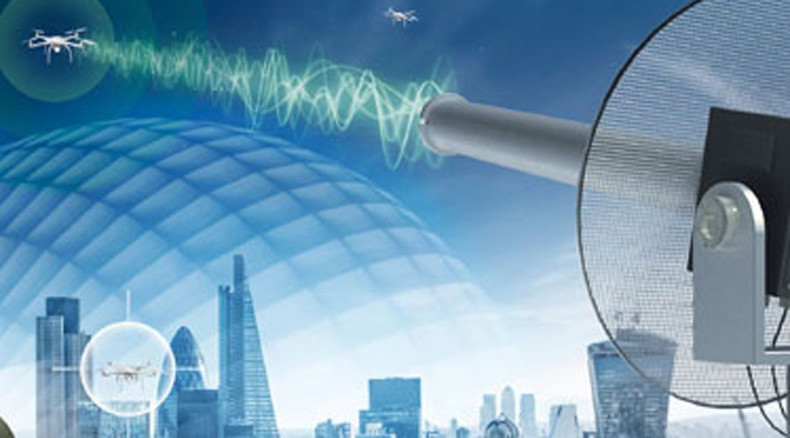 UK electronics and defense company Selex ES has revealed a new "electromagnetic shield" system designed to detect and intercept control of rogue civilian and commercial drones, such as quad copters, that could potentially pose a terrorist threat.
After three years in the making, Selex's Falcon Shield system was presented to the public during the Defence and Security Equipment International exhibition in London. The system uses cameras, radar and advanced electronics to monitor signals broadcast and transmitted by drones in order to locate, identify and then take control of remotely-piloted aircraft.
"Electronic warfare is the ability to control the electromagnetic spectrum," Stephen Williams, C-UAV capability manager at Selex ES said at the exhibition. "It's about passively sensing an enemy target using radio frequencies so that the enemy doesn't know you know they are there, and then finding a way to counter that target."
Marketed as the counter-UAS (C-UAS) product the shield operates on a five-stage principal. The initial 'find' stage scans the deployment location for potential threats using radar and electronic frequency monitoring.
The second stage involves "fixing" the target drone using radar electronic and electro-optical infrared (EO/IR) camera monitoring. The third stage then proceeds to "tracking" the target before the system initiates the fourth stage of "identifying" the threat.
"Electro-optics with high magnification plus identification using the electronic surveillance gives us what we think is a robust capability to identify a threat versus something that is friendly," Williams told Shepard Media.
The final "defeat" stage begins if the discovered unmanned aerial vehicle is deemed to pose a potential security threat. Falcon Shield uses its secret know-how to take control and land the drone safely, which involves "more than just jamming, and provides complex and customer-required capabilities ... intended to minimize collateral effects," Williams said.
The portable system, which could be deployed or stationed on moving premises offers security protection to any size of location, from large strategic infrastructure to protection of VIP moving convoys.
"What we are looking to do is harnessing multiple layers of technology to counter this evolving threat from mini- and micro-UAS. Our solution is not one-size-fits-all…it can address the full scope of what our customers need from operating in the middle of London to protecting large nuclear facilities," Selex ES manager said.
Selex ES intends for the Falcon Shield system to be used by law enforcement and civilian security, as well the military as part of the defence solutions against a variety of airborne threats.
"Drones costing just a few hundred pounds are capable of carrying explosives which could be used for attacks. They can take other payloads – or even just a bag of flour – which if they dropped it in crowded places such as football stadiums could cause a mass panic. There have also been cases of mystery drones equipped with cameras flying over sensitive sites such as nuclear power stations."