Anti-war Jeremy Corbyn attacked for defending white peace poppy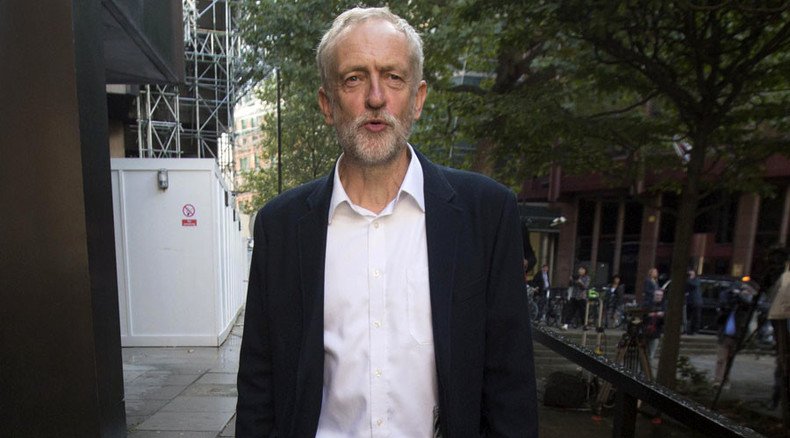 Opponents of newly-elected Labour Party leader Jeremy Corbyn have attacked the Stop the War coalition chairman's defense of the white peace poppy and lukewarm commitment to attend the annual Remembrance Day commemoration in November.
Corbyn made the remarks on Monday at the first Parliamentary Labour Party (PLP) meeting since his triumph with an overwhelming 60 percent of the vote for the leadership on Saturday.
He refused to rule out wearing a white poppy during the ceremony held each year at the Cenotaph on Whitehall. His office has since insisted he will wear a traditional red poppy.
According to Politics Home, sources said Labour MPs present at the meeting were "shocked" by his comments.
"He was asked about the white poppy and offered a defense of it," one MP said.
"He then said he attended memorial events in his own constituency and he wasn't sure what would happen this year," they added.
'Hope Corbyn knows where to draw line'
Another MP claimed the public would be "appalled" if Corbyn stood at the Cenotaph wearing a white poppy.
"They will not understand it – they will think he is on a different planet. It is deeply offensive to our armed forces, who have given their lives for the democracy and freedoms he enjoys," Labour MP Simon Danczuk said.
"I hope Jeremy will know where to draw the line on pushing a particular political agenda. The Cenotaph is no place to fight political battles."
'White poppies worn to oppose war'
Asked whether he would wear a red poppy, Corbyn said: "I don't know what is going to happen this year.
"People wear white poppies because of their deep opposition to war."
The Labour Party leader said he respects Remembrance Day regardless of what poppy he wears.
A spokeswoman later confirmed Corbyn, who attended the Battle of Britain commemorations on Tuesday, would wear a red poppy on Remembrance Sunday.
Just like the traditional red poppy, the white one is worn to remember those who died while emphasizing a lasting commitment to peace.
According to Stop the War, wearing a white poppy is a "respectful way to put peace at the heart of remembering those who died in war."
However, opponents of the white poppy argue the red poppy already encompasses the sentiments claimed for the white poppy, such as "remembering all the victims of war."
When the white poppy was first established in the 1930s, a number of women lost their jobs for wearing them, as it was believed the statement undermined those who had died in service.
In 2006, Channel 4 News anchor Jon Snow sparked controversy after refusing to wear a red poppy on air, saying demands for him to wear the traditional flower was "poppy fascism."
LISTEN MORE:
You can share this story on social media: