Syria needs political solution, not military intervention – Corbyn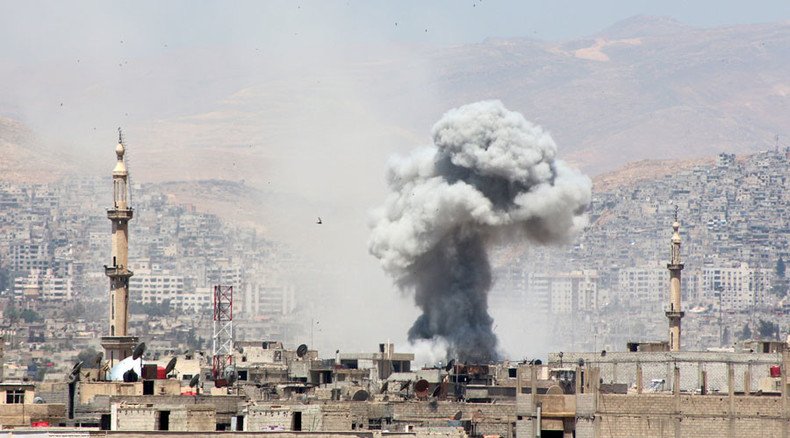 Military action in Syria will only lead to civilian deaths, says Labour Party leadership favorite Jeremy Corbyn, who insists there must be a political solution to the crisis.
Speaking to RT subsidiary Ruptly, the Islington North MP said he has called for an international political conference involving the European Union, the United States, Russia, Iran and regional nations to discuss a resolution to the crisis.
Cutting off financial and weapon supplies to Islamic State (IS, formerly ISIS, ISIL) would be a primary objective of the conference, "as a way of cutting off the arm supplies and money to ISIL, as well as preventing ISIL selling oil and making money from it."
Corbyn went on to reject the idea he is sympathetic to Syrian President Bashar Assad, describing his regime as "dreadful." He also called for immediate support for refugees who have fled the four-year long conflict.
"I'm not a supporter of Assad, I think the human rights record of his regime is dreadful and the methods he's used against his opponents is quite dreadful, as are many other things going on in that country."
The veteran left-winger, who is widely expected to win the Labour leadership when the result is announced on Saturday afternoon, said he was "concerned at the legality" of Prime Minister David Cameron's decision to launch drone strikes against British citizens fighting for IS in Syria.
Cameron announced on Monday that RAF drones had killed two British IS fighters in August who were allegedly plotting a terrorist attack on UK.
Corbyn rejected the idea that military action in Syria will bring about an end to the ongoing conflict.
"If we just go in bombing, civilians will be killed, and I suspect then there will be a call for ground forces to follow. There is no parliamentary authority for military action as of now – it was rejected in 2013," he said.
"There has to be a political solution to the whole issue," he added.
READ MORE: UK plans more Syria drone strikes, power transition that includes Assad
Cameron attempted to discredit the Labour frontrunner on Friday by claiming Corbyn poses a threat to British security.
Although the PM targeted Corbyn's economic policy, describing it as "extreme," a cabinet minister told the Times he intended the attack to include questions of national security.
Corbyn has been a vocal opponent of Conservative economic and foreign policy throughout his campaign for the Labour leadership.
Corbyn slammed the British government for not doing enough to support "desperate refugees" fleeing the conflict. He told Ruptly it was a "great shame" Britain didn't join the EU refugee program in 2012.
"The idea then was to be a program by which all members of the EU would agree on a refugee program to bring people in, as it's been done in the past by the UN in other crises around the world, from Chile to Vietnam and many others, they didn't do that," Corbyn said.
"Britain has taken very, very few refugees, but has given quite a lot of aid to the camps in Lebanon – and I applaud them for that and I recognize that. Germany has been exemplary in its preparedness to take large numbers of refugees.
"The Hungarian government doesn't appear to have joined in the mood music – but the ordinary people of Hungary have done a great deal to support people in a desperate situation," he added.
The Labour frontrunner also attacked Cameron's proposal to accept 20,000 refugees over five years, describing it as a "tiny number."
Corbyn echoed the PM's comments last week when he said the ultimate solution is to address the cause of the refugee crisis. He pointed out that there are now more displaced people in the world than at any point in recorded history.
"This requires a serious UN program of immediate aid and support, persuading all countries to take a good number of refugees, and also looking at the economic, environmental and war inequalities that bring about the refugee flow in the first place," he said.
You can share this story on social media: