ISIS use rape as 'violent, brutal, terrorizing weapon,' Angelina Jolie tells Lords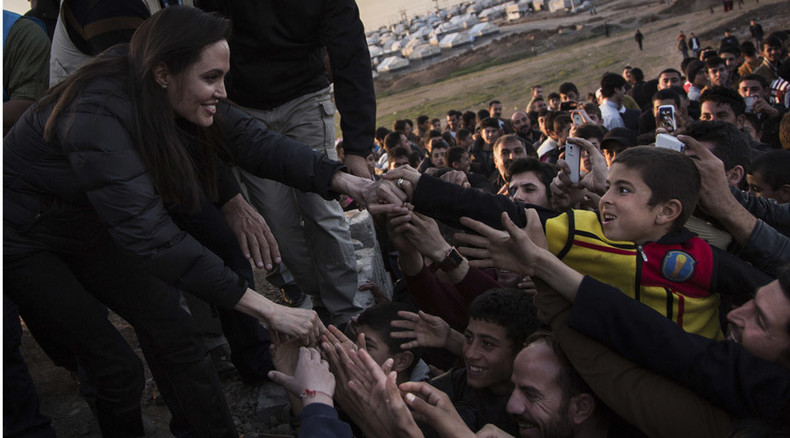 Hollywood actress and UN Special Envoy Angelina Jolie told peers the Islamic State (IS, formerly ISIS/ISIL) uses rape and sexual violence as a weapon of war while giving evidence before a House of Lords committee.
"They are dictating it as policy. They are saying, 'You should do this, this is the way to build a society,'" the actress, who has become a vocal opponent of sexual violence, told the assembled peers on Tuesday.
Sitting alongside former Foreign Secretary-turned-peer William Hague before the committee on sexual violence in conflict, Jolie said: "They know it is a very effective weapon, and they are using it as the center point of their terrorism."
Hague said: "This is a key part of preventing sexual violence."
"These are crimes that are committed almost exclusively by men. That they happen … and go unchallenged, should shame all men."
Jolie said the International Criminal Court (ICC) must pursue prosecutions. When asked about the causes of sexual violence in conflict, she argued "the most important thing to understand is what it's not. It's not sexual. It is a violent, brutal, terrorizing weapon."
In August, the New York Times published a story exploring how IS has moved to codify the practice of rape. According to the report, which involved testimony from 21 women and girls who managed to escape from IS, the group has made it an acceptable part of its theology to rape women who are not Muslim.
With more than 3,100 Yazidis still captive, IS has created an elaborate sex slavery system featuring contracts and courts. Permission for rape has also been used to entice others to join the group, the Times reports.
READ MORE: ISIS leader reportedly raped American hostage

In one example, a 12-year-old recounted how an IS militant prayed before and after raping her, explaining that the sexual assault was condoned by the Koran.
"I kept telling him it hurts — please stop," the girl, who went unnamed, told the Times. "He told me that according to Islam he is allowed to rape an unbeliever. He said that by raping me, he is drawing closer to God."
LISTEN MORE: