Refugee crisis: People power forces Cameron to accept 4,000 asylum seekers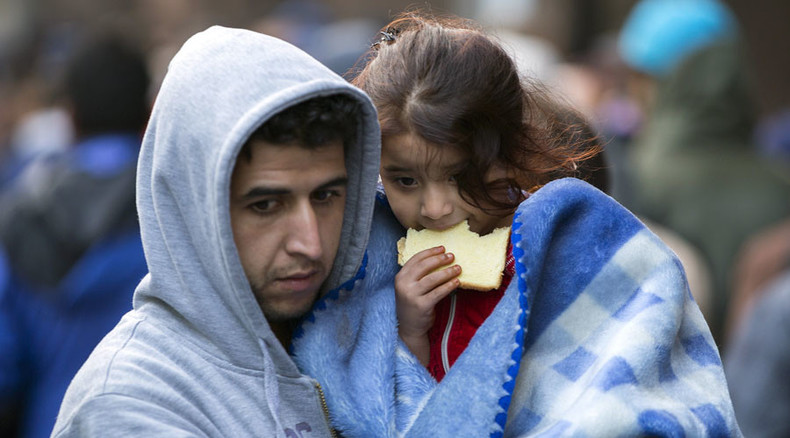 Public outrage at the plight of asylum seekers arriving in Europe has forced Prime Minister David Cameron to backtrack on his pledge to keep the UK's doors closed as the UN confirms Britain will take a further 4,000 refugees.
People power in the UK has been credited with Downing Street's volte-face on Thursday evening, when Cameron announced the UK will accept "thousands" of refugees, many of whom are fleeing conflict in Syria, Iraq, Yemen and Afghanistan.
More than 350,000 people have signed an e-petition in favor of accepting more asylum seekers as of Friday morning, while the hashtag #RefugeesWelcome was trending on Twitter late Thursday with 74,000 tweets over the course of the day.
Cameron's volte-face
Speaking in Lisbon on Friday, the PM pledged that Britain will provide resettlement for "thousands more" asylum seekers who are currently in refugee camps along the Syrian border.
"No European country has done more than Britain in this regard. Were it not for that massive aid, the numbers making the perilous journey to Europe today would be even higher," Cameron said.
"Britain will act with its head and its heart providing refuge for those in need while working on a long term solution to the crisis."
The UN refugee agency revealed on Friday morning that Britain will take a further 4,000 Syrian refugees from camps in the Middle East.
"We obviously welcome very much the move to increase resettlement spaces for Syrians in the UK. Those spaces are going to be critical to the lives and future of 4,000 people," a spokeswoman for the agency told AP.
"We certainly believe that there's the momentum here."
A spokeswoman for Downing Street declined to confirm or deny the figure of 4,000, saying the details of the plan will be announced next week.
Human rights charity Amnesty International welcomed the announcement, but warned the government has broken similar promises before.
"In January last year, the government promised to resettle hundreds of them and earlier this year David Cameron said this would be increased, albeit modestly. But over the whole of this period, the UK has taken a pitiful 216," Amnesty UK's refugee expert Steve Symonds said.
Scotland steps up
Scottish First Minister Nicola Sturgeon said on Friday Scotland should accept 1,000 refugees "as a starting point for a meaningful discussion."
Sturgeon criticized the British government for "struggling to show leadership in this refugee crisis."
The FM said she had cross-party support from the Scottish Parliament for a pragmatic response to the humanitarian crisis.
"It has been suggested that we in Scotland should ready ourselves now to accept 1,000 refugees and I certainly believe we should do so - not as a cap or a limit but as a starting point for a meaningful discussion about how much we can practically contribute," she said.
People power forces Cameron's hand
Cameron had refused to accept more asylum seekers as recently as Thursday afternoon, when he blamed Syrian President Bashar Assad and Islamic State (IS, formerly ISIS/ISIL) for the "terrible scenes" on Europe's beaches as the dead bodies of refugees continue to wash ashore.
"There isn't a solution to this problem that is simply about taking people. We need a comprehensive solution; a new government in Libya, we need to deal with the problems in Syria," he said.
The British public responded with outrage, as tens of thousands of people signed an e-petition on Parliament's website demanding the UK accept more refugees and increase support for migrants in the UK.
A similar petition on Change.org had received more than 250,000 signatures as of Friday morning.
LISTEN MORE:
A protest against the government's "awful" policy on refugees has been planned for Saturday September 12 and already has 12,000 people confirmed on Facebook as attending.
The demonstration is being organized by Stand Up To Racism, the People's Assembly Against Austerity, the Stop the War coalition and other groups.
Aylan Kurdi
The dramatic shift in public opinion was prompted in part by pictures of a drowned Syrian boy who was found washed up on a beach in Turkey which went viral on Wednesday.
The three-year-old, who was identified as Aylan Kurdi, has since been buried in the Syrian town of Kobani on the Turkish border by his father, the only surviving member of the family.
Even newspapers previously hostile to refugees changed their reporting on the crisis, with the Sun calling on the PM to deal with the "heart-breaking life and death situation" that has seen 2,300 asylum seekers drown in the Mediterranean this year.
The Sun newspaper was heavily criticized earlier this year when it published an opinion piece by columnist Katie Hopkins comparing refugees to "cockroaches."
West's intervention caused crisis
War on Want Executive Director John Hilary said on Friday the refugee crisis was unsurprising given the West's intervention in the Middle East in recent decades.
In a blog on the charity's website, Hilary wrote that the CIA warned the allied strategy in Iraq would cause "blowback."
The UK has "an even greater responsibility towards those refugees who are fleeing from conflict situations which our own government caused in the first place," he said.
"Beyond our duty to provide safe haven, we must put an end to the UK's imperialist interference in the lives of people around the Middle East, or anywhere else in the world. Only this will provide the basis for a proper resolution of the refugee crisis into the future."
Chaos on EU's borders
Images from Hungary of desperate asylum seekers crowding onto trains demanding to be taken to Germany have compounded the sense of chaos at the fringes of the European Union.
Hundreds of asylum seekers slept overnight on a train in the Hungarian capital, Budapest, with scuffles breaking out Friday morning as police attempted to force them off.
Meanwhile around 300 asylum seekers escaped from a Hungarian refugee camp at Roszke, near the Serbian border.
EU leaders have been criticized for their impasse over the crisis, with Hungarian Prime Minister Viktor Orban describing it as a "German problem."
While European Council President Donald Tusk has called for at least 100,000 refugees to be distributed across EU states, several countries including Britain still oppose the introduction of mandatory quotas of asylum seekers.
You can share this story on social media: