'It's an act of courage to openly declare faith' – religious leaders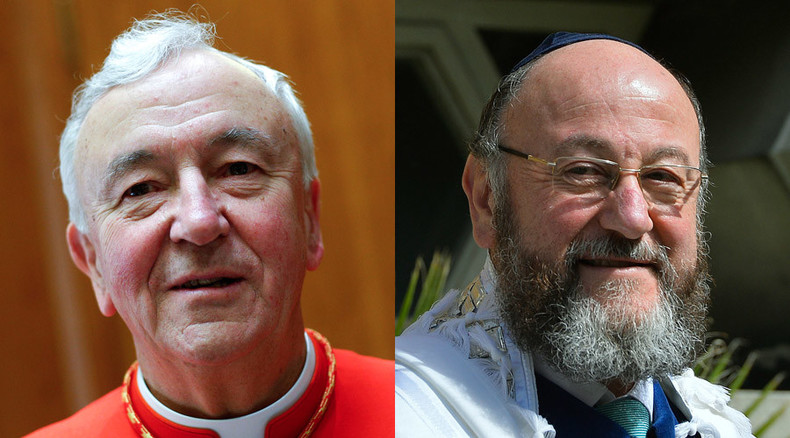 Religious people who publicly declare their faith are presumed to be "naïve," according to senior Jewish and Roman Catholic clerics, who say that professing their beliefs has become an "act of courage."
Cardinal Vincent Nichols and Chief Rabbi Ephraim Mirvis said many societies are likely to dismiss those who confess their religious beliefs as "unsophisticated," especially when debating vital issues such as assisted dying.
Announcing one's views "no longer commands universal respect for a deep commitment to a lofty ideal, self-discipline and moral conviction," they said.
Writing in the Telegraph on Thursday as they visit Rome to meet Pope Francis to discuss faith relations, the leaders called for greater understanding and for religious communities to cultivate closer working relationships.
"Jewish and Catholic shared history has been so deeply stained with the blood of innocent men, women and children whose only crime was a sincerely held personal religious conviction, that the thought of such a warm relationship as we shared today, would have once seemed absurd," they wrote.
In many places, it can be an "act of courage" to be a person of faith, they said.
"In many societies you are more likely to be dismissed as naïve, unsophisticated and narrow minded.
"As such, when a view is expressed, which is informed by one's faith on issues such as assisted dying, the value of family life or social responsibility, that view is often treated with skepticism, as though it is somehow less rational or ill-founded."
The "brazen persecution" of Christian, Muslim and Jewish minorities in the Middle East is "one of the most pressing shameful issues of our time," they added. It is "crucial" for people of faith to stick together in this "secular" age.
"That is why it is more important than ever for faith communities like ours to cultivate close working relationships."
The comments come as Catholic and Jewish communities prepare to mark the 50th anniversary of Nostra Aetate, the landmark declaration by the 2nd Vatican Council, which condemned anti-Semitism and helped transform relations between the two faiths.
According to Dignity in Dying, a majority of religious people in Britain support the group's campaign to legalize assisted dying.
The 2010 British Social Attitudes Survey found that 71 percent of religious people support assisted dying.
Writing in the Times, Rabbi Romain said until now religious groups have been opposed to assisted dying, but there is a "growing number whose faith impels them to support such a move in circumstances where the person is terminally ill, in great pain and requests the right to die."