'Wife-murdering tyrant': Henry VIII voted least favorable monarch in history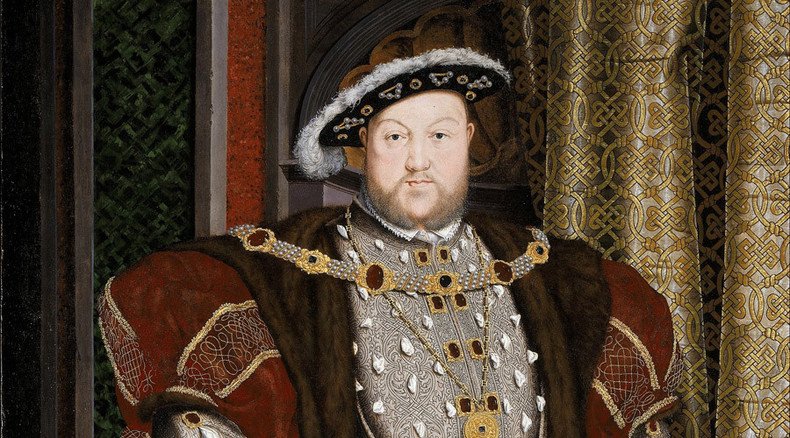 Henry VIII's legacy as an obsessive tyrant and self-indulgent wife-killer makes him the worst monarch in history, a group of writers have said.
A Historical Writers Association (HWA) survey, which focused on the lives of monarchs, found Henry VIII to be the most reprehensible on record.
It was conducted in partnership with the Harrogate History Festival, which will honor Queen Elizabeth II as Britain's longest reigning monarch in October.
Over 60 writers took part in the poll, with 20 percent criticizing Henry VIII's "syphilitic,""obsessive" and "self-indulgent" wife-murdering ways.
One respondent Robert Wilton, who wrote The Spider of Sarajevo, said the deceased king was "willfully and capriciously dangerous to everything around him."
Labeling Henry VIII a "gross man-child," Wilton said the king "barely made it out of infancy, let alone adolescence, and ruled with little more policy than petulant self-gratification."
Henry VIII was the second monarch of the Tudor dynasty, having succeeded his father Henry VII. His marital life is the subject of sharp criticism.
He divorced two of his wives Catherine of Aragon and Anne of Cleves, and had a further two executed: Anne Boleyn and Catherine Howard. While another, Jane Seymour, died during childbirth, his last wife Catherine Parr outlived him.
In addition to his six marriages, Henry VIII is renowned for his role in establishing the Church of England and breaking with the Roman Catholic Church.
He is also remembered for radically reforming England's constitution by introducing the divine right of kings. The political and religious doctrine asserts that monarchs transcend earthly authority and assume the right to rule directly from the heavens.
The Historical Writers Association's survey found Queen Elizabeth I to be Britain's favorite monarch, with 36 percent of the vote.
Bestselling author Elizabeth Buchan argued the queen kept the nation together at a time when religious divides "could have torn it apart."
"This would have been no mean feat for a king. For a woman at that period it was unprecedented," she said. Elizabeth Fremantle, author of Queen's Gambit, added Elizabeth was "deeply flawed yet impressively in control and a woman to boot."
Alexander the Great came second in the poll with 10 percent, while Henry II managed to secure 6 percent.
At the more biting end of the spectrum, Edward VIII was named the second worst monarch, with 14 percent of the vote, while John I and Charles I came joint third, with 8 percent of the vote.
You can share this story on social media: