Foreign Office urged to help British journalists facing terror charges in Turkey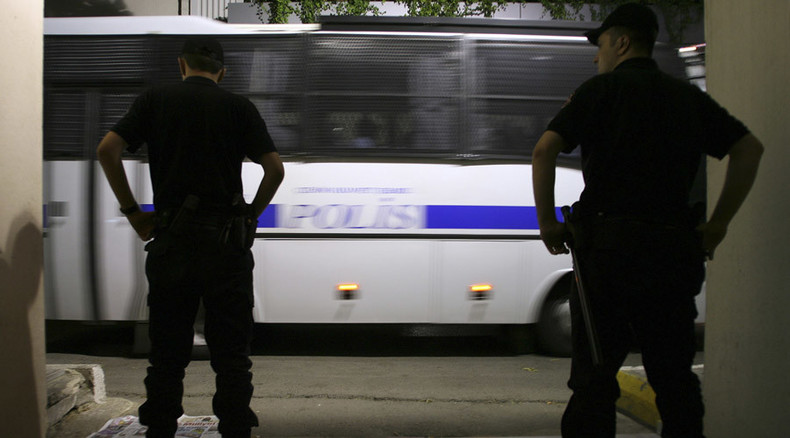 Press freedom charities have urged UK Foreign Secretary Philip Hammond to publicly speak out in defense of two British journalists working for Vice News, who were arrested in Turkey under terror legislation last Thursday.
Freedom of expression groups have called on the foreign secretary to intervene on behalf of the journalists, who were formally charged with "aiding a terrorist organization" in a Turkish court on Monday.
VICE News journalists Jake Hanrahan and Philip Pendlebury, both UK citizens, were detained along with their fixer and a fourth member of their team in the city of Diyarbakir on Thursday.
Police are reported to have interrogated them about alleged links to Islamic State and Kurdish militants.
The journalists were filming clashes between police and pro-Kurdistan Worker's Party (PKK) youths in southeastern Turkey.
Amnesty International, Index on Censorship, PEN International and the Committee for the Protection of Journalists (CPJ) have condemned the detentions under terror legislation and demanded the immediate release of all four reporters.
The groups have also written to the Council of Europe, an intergovernmental organization that oversees the European Court of Human Rights, to express their concerns.
In a letter to Hammond signed by Index on Censorship, PEN International and English PEN, the organizations brand the terror charges against Hanrahan and Pendlebury "baseless."
They state that Turkey's "routine use of counter-terrorism charges against journalists" has been a longstanding cause of concern for human rights organizations and say there are rising fears of a media crackdown following police raids of media organizations.
"We recognize that Turkey is facing a period of heightened tension in the region. However, at such a time it is more important than ever that both domestic and international journalists are allowed to do their vital work without intimidation, reporting on matters of global interest and concern," the statement read.
"A member of the Council of Europe, Turkey is a state party to both the European Convention on Human Rights and the International Covenant on Civil and Political Rights. It is therefore obliged to respect the right to freedom of expression and ensure that journalists are free to gather information without hindrance or threat.
"We appreciate the Foreign Office's consular assistance to the VICE News team and urge you to make a public statement in defense of freedom of expression in Turkey," it adds.
The statement is signed by Index of Censorship Chief Executive Jodie Ginsberg, English PEN President Maureen Freely and PEN International Executive Director Carles Torner.
Amnesty International issued its own statement in which they described Turkey's record of abusing anti-terror laws as "abysmal."
The organization said they had spoken with Hanrahan and Pendlebury's lawyer, who told them the journalists' hotel rooms had been searched and their camera equipment and footage impounded by police.
Amnesty's Turkey Researcher Andrew Gardner said: "This is yet another example of the Turkish authorities suppressing the reporting of stories that are embarrassing to them. They should release the journalists immediately.
"It is completely proper that journalists should cover this important story. The decision to detain the journalists was wrong, while the allegation of assisting Islamic State is unsubstantiated, outrageous and bizarre."