Shoreham airshow crash inquest opens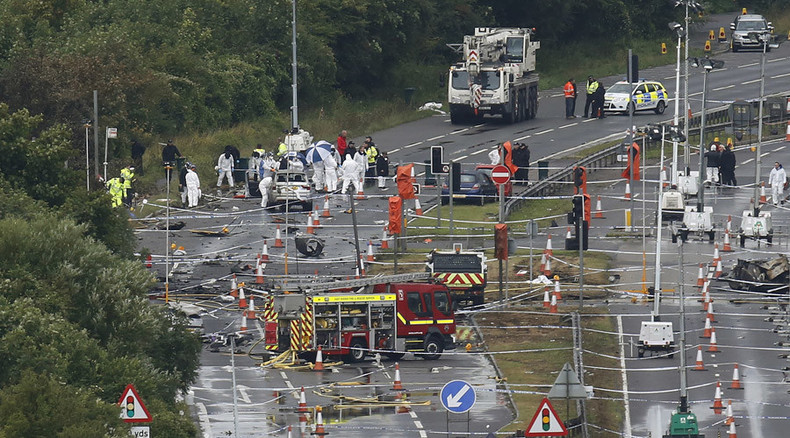 Amid ongoing investigations by air safety bodies, the inquest into the Shoreham airshow crash, which killed 11 people in August, will get underway on Wednesday.
West Sussex Senior Coroner Penelope Schofield will open the inquiry into the disaster in which a 1950s Hawker Hunter jet crashed into a dual carriageway after apparently failing to pull out of a loop stunt.
As the Air Accidents Investigation Branch (AAIB) continues to carry out its own inquiries, the inquest will be opened and immediately adjourned.
READ MORE: Shoreham crash: Plane 'struggled to take off' as new video suggests 'faults'

Families of those killed have been invited to County Hall North in Horsham, Sussex, for an official naming of the dead.
The pilot of the vintage jet survived the crash after being hauled from the burning wreckage. Former British Airways (BA) pilot Andy Hill has since been moved to a specialist hospital to recover from his injuries.
"He is a highly experienced pilot, well-known and well-loved. He is highly professional and it is totally unusual for this to happen. He was a Harrier pilot in the Air Force. They are the top RAF (Royal Air Force) pilots – the best of the best," David Wildridge, who had flown at the same airshow earlier in the display, told the Telegraph shortly after the crash.
Police had feared up to 20 people had been killed, but after clearing the wreckage from the grounds of nearby Lancing College they have confirmed there are no further human remains.
On Saturday, one week on from the crash, thousands of people from the local area gathered to hold a moment of silence.
Witnesses of the accident, in which the plane is thought to have failed to pull out of a loop and careered into vehicles, including a wedding limousine, described a "huge ball of fire and black smoke."
Chris Blewett, an off-duty paramedic from Worthing, West Sussex, was watching from a riverbank when the plane crashed.
"It was doing a big loop-the-loop and I thought, 'That's coming in low' and then there was a massive fireball," the 47-year-old said. "There were many burnt-out cars and motorbikes lying on their side. It was absolute carnage."