Shoreham crash: Plane 'struggled to take off' as new video suggests 'faults'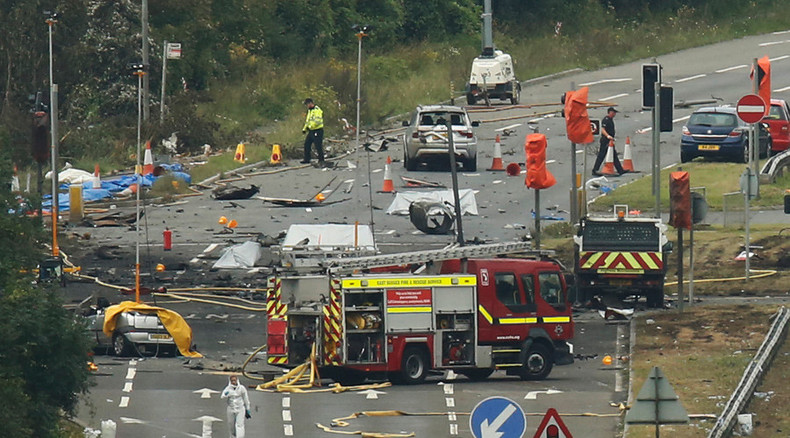 The Hawker Hunter jet involved in the Shoreham Airshow tragedy "struggled to take off" and may have suffered a "flareout" causing the engine to cut out mid-air and plunge into the A27, experts say.
New footage has emerged showing an orange flash coming out the 1950s jet moments before it failed to pull out of a loop maneuver and plummeted into cars leaving 11 people dead in West Sussex on Saturday afternoon.
Aviation security expert Julian Bray said he is almost certain the flash was a flame, causing a "flareout" which forced the engine to either "stop or restart" in the sky.
The Hawker Hunter T7 jet does not have an afterburner on it "so usually you don't see any form of orange flare at the back," he told the Daily Mail.
Bray said this mechanical failure could have contributed to the crash. "I think it's a series of failures but this is definitely a major one."
However, another expert said pilot Andy Hill's takeoff was "unusual" after watching another video which appeared to show the jet "struggling."
"With these types of planes they normally go up and up like a missile but this one didn't," aviation expert Dr. Stephen Wright told the Telegraph.
Eyewitness Erol Huseyin, 27, who filmed the jet during its final takeoff said it "didn't look right at all."
"I'm used to seeing planes take off halfway down the runway. You see it wants to lift off, the nose starts lifting but it didn't do anything," he told the Telegraph.
However, consulting editor for Flightglobal Aviation David Learmount said there "may have been a mechanical failure" but that doesn't mean the jet would stop producing all power.
"Given its height, it should have still been possible to land safely," he told the Times.
According to the paper, a former police officer said he repeatedly warned the Civil Aviation Authority and Air Accident Investigations Branch of a "gung-ho" attitude towards safety at the Shoreham airfield.
The videos emerged soon after West Sussex Tory councilor James Butcher questioned why the loop stunt took place over a busy dual carriage way.
"There's certainly going to be a lot of questions raised about why that stunt was allowed to take place over the road and not all the open space," he said in a statement.
Some 11 fatalities occurred after the aircraft crashed last weekend.
Five victims have been identified as wedding car driver Maurice Abrahms, 76, Worthing United players Matthew Grimstone and Jacob Schilt, both 23, personal trainer Matt Jones, 24, and CAD technician Mark Reeves, 53.
The pilot, Halls, was pulled alive from the wreckage of his cockpit and is now fighting for his life in a medically-induced coma at Royal Sussex County Hospital.