Corbyn's used coffee cup sells for £51 on eBay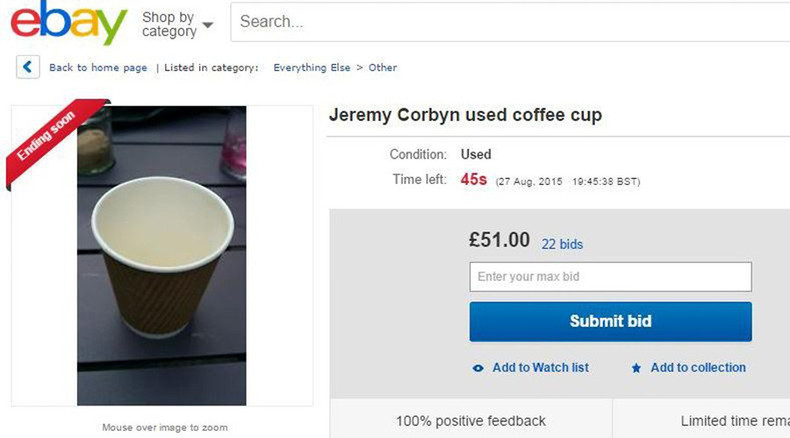 As Corbynmania sweeps the nation, fans of the surprise Labour leadership favorite have snapped up his used disposable coffee cup at auction on eBay for the reasonable price of £51 (plus postage and packaging).
The funds raised by the savvy seller, who attracted 23 bids, will be donated to charity Age UK.
Seller Maria Cooke, 49, listed the cup as having been handed in by Corbyn after a trip to the theatre in Nottingham.
"OK, this is obviously aimed at a niche interest group, but Jeremy handed me his empty coffee cup at tonight's gathering outside the Playhouse in Nottingham," she wrote.
"I realize most people would have put it in the bin, but I asked, 'What would JC do?' and concluded that if people in need benefit, it would be OK. I hope he agrees or at least understands. So I am auctioning it to benefit Age UK Notts [Nottinghamshire]. If we sell it for over £50, I will try and get him to sign it too. Thanks."
The cup was bought by a group of students from Oxford University, who pooled their cash to snap up the relic.
"It was just a crazy idea that one of us came up with," 21-year-old David Browne, who has just graduated with a degree in law, told the Evening Standard.
"We wanted to get it over the £50 threshold to get it signed. It was just a bit of fun really.
"In politics we stand from people who actually like Jeremy Corbyn right up to Conservative voters."
When asked what the students would do with the cup, he said one of them would hold on to it for safe-keeping, and "maybe bring it to a couple of events."
Having promised to get the cup signed, Cooke has since contacted Corbyn's team.
Another interested party, Ned Donovan, who was sadly outbid in the fierce price war, told the Standard he thought the cup was a valuable piece of Labour history.
"To own a souvenir from the leadership election would be great. Jeremy is the only hope for us anyway.
"It's equivalent to owning a lock of Lenin's hair, or Tony Benn's pipe. A true memento of a point of change in this country."
Asked if he was disappointed not to have won the paper mug, he said, "To be quite honest, absolutely. But unfortunately in the end the price was just too much for me."