Immigration hits new record, bosses dub Tory 'tens of thousands' cap 'unachievable'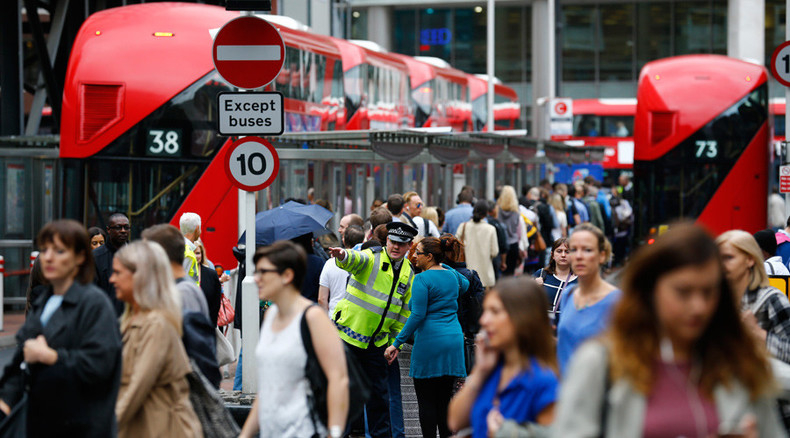 Net migration into Britain has reached record levels, according to the latest figures from the Office of National Statistics (ONS), with the UK accepting 330,000 newcomers over the past 12 months.
Business chiefs have hit out at the failure of the government to meet its pre-election pledge to a 100,000 limit, branding the proposed cap "bizarre and unachievable."
The new figures show Britain's net migration is now 10,000 higher than its previous 2005 record.
The latest rise has predominantly been driven by economic migrants, some 65,000, who have come to Britain to work, with two thirds already in possession of a job before they arrive.
Of the 94,000 overall rise, 56,000 were migrants from within the European Union and 39,000 were from the outside.
The number of Romanians and Bulgarians has nearly doubled from 28,000 to 39,000 in the past 12 months.
This latest record number presents an embarrassment for the Conservatives, who pledged to keep immigration at "tens of thousands" after the general election.
The figures also show that the number of foreign-born people living in the UK surpassed 8 million for the first time, and that more than 3 million of them have become British citizens.
Immigration Minister James Brokenshire said the new figures were "deeply disappointing."
Last week one survey found that a third of Brits think immigration is the most important issue facing the country.
In reality, the majority of people overestimate the number of migrants in the country by nearly 100 percent with immigrants making up just 13 percent of the population, rather than the average guess of 24 percent.
The concern that people are migrating in order to scam the welfare system also ranked highly on the list of people's concerns. But according to one survey by the Refugee Council, 75 percent of asylum seekers have no knowledge of the benefit system before they arrive.
The latest figures have prompted criticism from British business chiefs, who say the government's plan needs to be credible and well thought-out.
"This government was elected on the importance of setting out a credible long-term plan and delivering it.
"Immigration policy should be no different – setting sensible and achievable controls on migration in a way that is consistent with the economic recovery," said the director of the British Future think tank, Sunder Katwala.
The Institute of Directors' director general, Simon Walker, said policies were dictated by the quarterly results.
"By announcing polices on the hoof every time new figures come out, the government betrays its lack of a long term plan on migration," Walker said.
"Scrabbling around to find measures to hit a bizarre and unachievable migration target is no way to give British businesses the stable environment they need.
"Combined with ministers' increasingly strong rhetoric on immigration, the UK's reputation as an open, competitive economy is under threat."