Palestinian artist expelled from Banksy's Dismaland after anti-Israel protest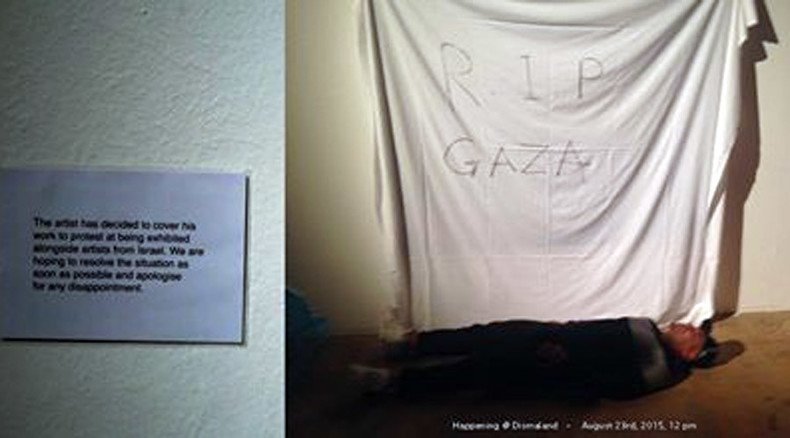 Palestinian artist has been ejected from Banksy's Dismaland theme park after he protested against the presence of Israeli artists.
Shadi Alzaqzouq was escorted out of the new "bemusement park" for placing a bed sheet over his work with the words "R.I.P. Gaza: Boycott Israel" written in coal and lying down "like a corpse" in front of his exhibition.
Dismaland organizers initially said they would remove the artists' work, but later posted a sign next to his exhibition explaining Alzaqzouq's reasons for covering his art and expressing hope a resolution could be found.
Banksy's parody theme park opened on Saturday and offers a dark twist on Disneyland, replete with a Disney-style castle, a Jimmy Savile-inspired 'Punch and Judy' show and "entry level anarchism."
Alzaqzouq said he was upset he hadn't been informed three Israeli artists would also be displaying their work.
"I found out when [I] arrived at the show that three Israeli artists were taking part, one of whom served in the IDF. I got upset that I hadn't been informed and tried to complain to the organizers. I was told someone would meet with me, but after over an hour of waiting no one came to meet with me," he told al-Araby al-Jadeed.
"I decided I had to protest in some way so I went and got a bed sheet from my hotel room and wrote 'R.I.P Gaza: Boycott Israel' on it in coal and hung it over my artwork and laid down like a corpse in front of my two paintings on display."
Security guards approached Alzaqzouq half an hour later to investigate. The artist then spoke with Banksy's manager Holly Cushing, who allegedly told him the protest was too "ugly" for the show.
Alzaqzouq claims Cushing told him to leave the theme park after talking with Banksy.
"I didn't pull out of the show. I just wanted to send the message that I was protesting – but they didn't like it and gave me the boot," the artist said.
"I respect all that Banksy did, especially in Gaza. He was my hero for a long time and gave some hope to us. I just tried to send him a message – in a very Banksy kind of way – that I objected, and then I got kicked out. I am surprised," he added.
Dismaland organizers have since placed a sign next to Alzaqzouq's exhibition which states the park hopes to resolve the issue.
"The artist has decided to cover his work to protest being exhibited alongside artists from Israel. We are hoping to resolve the situation as soon as possible and apologize for any disappointment," the display reads.
Described as a "festival of art," Dismaland will open on Saturday and run for five weeks until September 27, from 11am until 11pm.
Visitors will take in the exhibition's main attraction, a Disney-style castle, surrounded by palm trees, a carousel and other amusements for a £3 (US$4.67) entry fee.
Other attractions include a Jeffrey Archer Memorial Fire Pit and a sandcastle topped by a windmill and prancing horses made from steel poles.
It will include works by celebrated artists such as Damien Hirst, making it the biggest display of modern art ever seen in North Somerset, according to the exhibition website.
You can share this story on social media: