'Start of a new phase': UK reopens its Tehran embassy after 4-year closure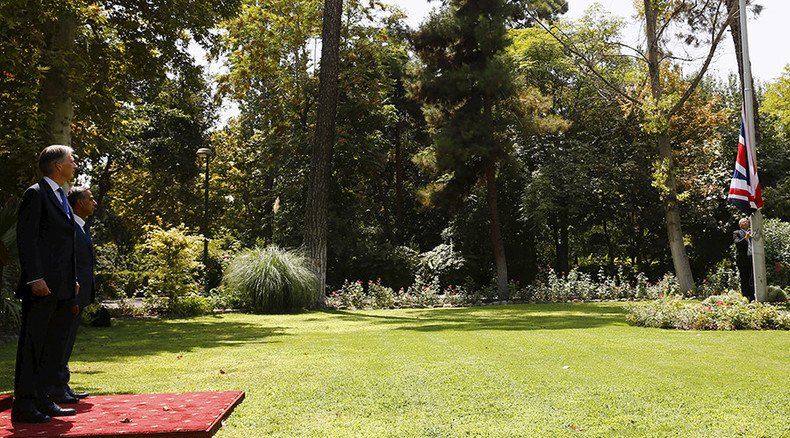 The British embassy in the Iranian capital of Tehran has been officially reopened by UK Foreign Secretary Philip Hammond, nearly four years after it was closed following a violent attack by a group of activists protesting UK sanctions on Iran.
"Today's ceremony marks the end of one phase in the relationship between our two countries and the start of a new one - one that I believe offers the promise of better," said Hammond after he declared the embassy open again and raised the Union Jack in the residence garden.
According to the foreign secretary, the Iranian-UK relationship "has improved since 2011."
The re-opening of the British embassy in Tehran comes after six major powers and Iran struck a conclusive deal on Tehran's nuclear program on July 14.
READ MORE: Key points of historic nuclear deal reached by Iran and 6 world powers
Arrived in #Tehran. First British Ministerial visit since 2003. Historic moment in UK-Iran relations.

— Philip Hammond (@PHammondMP) August 23, 2015
The 19th century British embassy in Tehran was attacked in November 2011 by a mob of activists protesting against UK sanctions on Iran. The demonstrators damaged property, looted residences and burned the British flag.
The protest had started as a peaceful demonstration to commemorate the anniversary of the death of Iranian nuclear scientist Majid Shahriari. According to the Iranian government, he was murdered in a joint operation by Israel's Mossad and UK's MI6.
The protesters were chanting "death to England," some of them managed to get inside the building and threw documents from the windows. On that day a group of students also climbed over the embassy's gate, rushed the building and started showering it with stones and Molotov cocktails.
Full diplomatic relations with Iran were suspended, UK diplomatic staff were withdrawn from Iran and the embassy was closed following the riots.
READ MORE: Theresa May accused of blocking UK embassy reopening in Iran
Though the re-opening of the embassy comes after reaching a comprehensive deal on the Iranian nuclear program, initial plans to restore ties with Iran were voiced in June 2014 by First Secretary of State William Hague.
"Iran is an important country in a volatile region, and maintaining embassies around the world, even under difficult conditions, is a central pillar of the UK's global diplomatic approach," he said.
READ MORE: UK, Iran revive diplomatic ties with first charge d'affaires since 2011 embassy attack
You can share this story on social media: