UK, Iran revive diplomatic ties with first charge d'affaires since 2011 embassy attack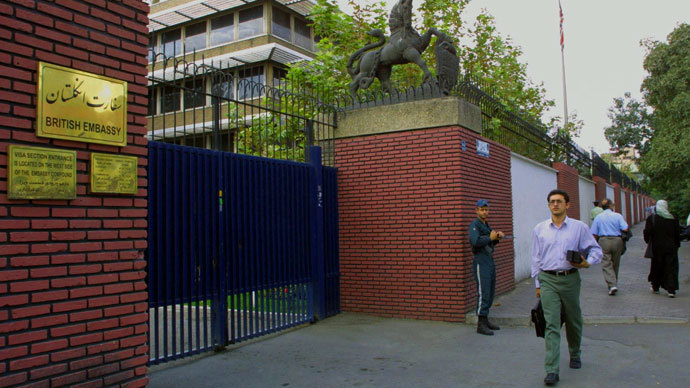 Britain has appointed a non-resident charge d'affaires to Iran as the two states are reviving relations. The thaw comes two years after Iran's ambassador was expelled from the UK following the storming of the British embassy in Tehran in 2011.
Britain's Foreign Office said Ajay Sharma, currently the head of the ministry's Iran department, will take up the post immediately, Reuters reported.

At the same time Iran appointed a new charge d'affaires to the UK, Mehr news agency said.

"Today the Islamic Republic has appointed Mohammad Hassan Habibollah as charge d'affaires to Britain and has introduced him to the British side," the agency reported Iran's Foreign Ministry as saying.
Over the last two years, Iran's interests in the UK were represented by Oman, and UK's interests in Iran were looked after by Switzerland.
The proposal to reopen embassies in Iran and UK was first voiced on the sidelines of the UN General Assembly in New York, where Iranian President Hassan Rouhani appealed for reconciliation between the Islamic Republic and western powers.

In October, British Foreign Secretary William Hague said that it was "clear that the new president and ministers in Iran are presenting themselves and their country in a much more positive way than in the recent past."

In November 2011, Iranian protesters stormed the British embassy in Tehran, prompting the UK to close its diplomatic mission in the country and expel Iran's ambassador to the UK. 
Back then a protest started as a peaceful demonstration to commemorate the anniversary of the death of Iranian nuclear scientist Majid Shahriari. According to the Iranian government, he was murdered in a joint operation by Israel's Mossad and UK's MI6.

The demonstration then turned violent, as dozens of Iranian students stormed the UK embassy in Tehran, chanting "death to England." On that day a group of students also climbed over the embassy's gate, rushed to the building and started showering it with stones and Molotov cocktails.

Some of the protesters managed to get inside the building and were reported to be throwing documents from the windows. They burned documents as another group of protesters seized some classified papers.

You can share this story on social media: