US considers 'modest relief' on sanctions as Iran, P5+1 make progress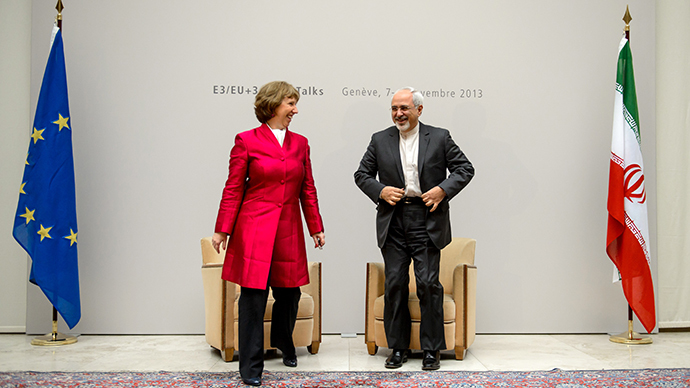 As Iran and the six world powers indicated they were "making progress" in the "tough" nuclear talks, Washington said it would consider "limited, targeted and reversible" relief on sanctions – but only after the Iranian nuke program undergoes changes.
Following the first round of the two-day negotiations in Geneva, Iran's Foreign Minister Mohammad Javad Zarif declared that the talks "went well," although they were not easy.

"I'm hopeful that we can move forward. We are making progress, but it's tough," Zarif said after the Thursday morning session between Iran, the US, Russia, China, Britain, France and Germany.

"The differences are widespread and deep. This is undeniable. And continuing the negotiations will not be an easy task, but this does not cause us to lose hope," Iran's Deputy Foreign Minister Abbas Araqchi added.

The spokesman for EU foreign policy chief Catherine Ashton, Michael Mann, said the "extremely complex" talks are "now getting into a serious phase," and that they hoped for "concrete progress here in the next couple of days."

US President Barack Obama meanwhile said that the core of the sanctions against Iran would remain intact to ensure that Iranian leaders do not back out of the deal.
"Our job is not to trust the Iranians," Obama said in an interview with NBC. "Our job is to put in place mechanisms where we can verify what they're doing and not doing when it comes to their nuclear program."
Indicating that some kind of a deal with Iran is imminent, US Secretary of State John Kerry has made a last minute decision to join the negotiations and will travel to Geneva after a brief stop in Israel, AP reports.
The momentum is clearly taking hold in the nuclear talks, Joel Rubin, the director of Policy and Government Affairs at the Ploughshares Fund, told RT.
"[Kerry] is not going there for atmospherics, he will be going there to engage directly in the substance of the talks and to ensure that the momentum continues to take hold and they do get to negotiate the settlement," Rubin said.
The world powers hope to reach a "first step" deal with Tehran to ease concern over its nuclear program, which the West claims may be aimed at developing a nuclear weapons capability. Iran maintains its nuclear program is a peaceful energy project, and wants the tightening sanctions damaging its economy to be lifted.

Later on Thursday, US and Iranian officials also held bilateral discussions on the sidelines of the meeting of P5+1, which were described as a "substantive and serious conversation" by a senior US State Department official quoted by Reuters.

Officials of both countries issued several statements following the meetings, which appeared to be both reassuring of progress and stressing that key positions of the sides were not up for discussion.

US "would consider limited, targeted, and reversible relief that does not affect our core sanctions architecture," in exchange for "concrete, verifiable measures" by Iran, addressing long-standing international concerns, White House spokesman Jay Carney told reporters.

However, the spokesman then threatened the "moderate" sanctions relief could be reversed, and stiffer sanctions could be imposed if Iran failed to show some progress on its nuclear program.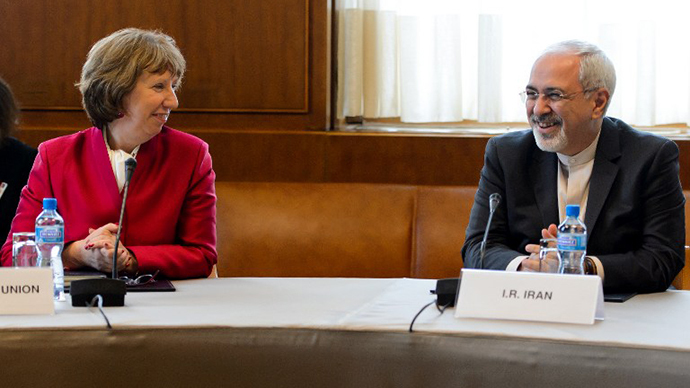 Meanwhile, Abbas Araqchi told Interfax that uranium enrichment as a fundamental issue remains "beyond discussion," and that Tehran is ready to discuss only the details of the process.

As none of the diplomats provided actual details of the talks, the media resorted to speculation over the minimum possible consensus for both sides.

A senior aide to a US senator briefed by the White House and State Department told Reuters that Washington is to offer measures that would "neither freeze nor set back" Iran's nuclear program to work in a six-month confidence-building period.

The measures could require Iran to "stop enriching uranium to 20 percent and convert its existing stockpile of 20 percent uranium to an oxide form suitable for processing into reactor fuel and take other measures to slow the program," the agency reported. The 20 percent fissile purity level is considered a major milepost on the way to making weapons-grade uranium, it explained.

In exchange, Iran would get some easing of gold and petrochemicals trade sanctions, as well as some relaxed restrictions on funds held in overseas accounts.

Meanwhile, some nations opposed any sort of deal between the P5+1 and Iran, with Israeli Prime Minister Benjamin Netanyahu on Thursday condemning the Obama administration's strategy as a "mistake of historic proportions."

He claimed that the discussed concessions for the Iranian side "are not concessions at all" and that they would still allow Iran to pursue its nuclear program under eased sanctions.

However, the progress of talks is now unlikely to be reversed, with Russian Deputy Foreign Minister Sergey Ryabkov saying that they are going at an "unprecedented pace."

Iran's Foreign Minister Zarif also said Iran believes some deal could already be reached by the end of the week. If agreement is not reached in Geneva, the Iranian side is ready to do it "in the next round" of talks, he added.